On the lookout for a new application to manage my to-do items after I decided that 'Things' was priced ridiculously high for such an inherently basic app, I headed over to the Mac App Store and began scouting around. What I was confronted with was a host of apps priced well over and above what I was willing to pay, with very little justification for it. Then I was recommended Wunderlist. Not restricted to the Mac, instead being open to a wide range of the most popular platforms.
What I like most about Wunderlist is that unlike its pricey competitors, it won't set you back a dime. On all platforms, including OS X, iOS, Android and Windows, it's free to download from various sources. There's no catch hidden away either, registration for use of the service is also as described. Free.
You may now be wondering why you might need to register to use a basic to-do list manager, but fear not, it's merely a means to enable to cloud sync functionality that at the time of writing the hugely expensive Things lacks. What this means is that all of your to-do items will be synchronised via your registered account and onto all the other versions of the app you may use that are registered to the same account. This means that when I'm sat at home on my PC and realise there's something I need to remember, I can quickly enter the item and it'll appear on my iPhone when I'm out and about, even if I'm offline, so long as I've been online at some point to download the latest items.
Unfortunately, when I say you can quickly enter items, what I mean is, you can't enter them quite as quickly as perhaps you should be able to. When using a trial of Things, I was impressed at a certain quick entry feature, allowing you to simply hit a keyboard shortcut and type out the entry and it'll appear in the app next time you go in to it. That was great, but here you have to go in to the app every time, although there is a handy entry bar to type your to-do reasonably quickly.
Once the items are entered, you can alter various preferences that will also be transferred after sync, including marking it as a priority, placing it at the top of the list with an unmissable red ribbon, as well as the ability to add further notes within an extra pane, and set deadlines for the selected task, which when approaching, will, in OS X and mobile platforms at least, give you a badge notification on the icon.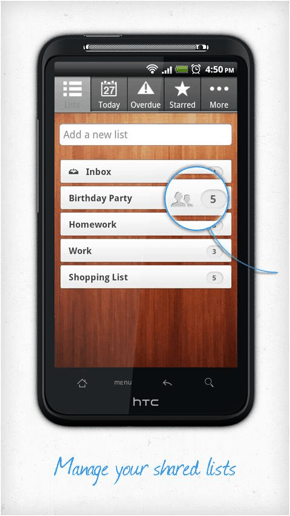 Like many other premium cloud-orientated applications, an impressive feature of Wunderlist is the web-UI, which can be accessed in any web browser, and allows you to sign in and access your to-dos, as well as modify or add them as you can in any app, with an identical interface.
Speaking of the interface, there's a neat feature of Wunderlist which, whilst not offering anything more in the way of functionality, is stylishly quite nice. That's the ability to change the background of the app between a variety of preset options, but unfortunately you can't add your own.
What's more, from any section of the app, of which there are a number depending on the filter you've placed on which items to vew, or amount of separate to-do categories you have stored, for example 'work' and 'personal', though you can add as many as you like. You can print or email your todo items, and in OS X you can share your to-dos with cloud app, a popular cloud file sharing service also free from the app store.
All in all Wunderlist is a quality application, representing a bargain when compared with its rivals. Unfortunately at the time of writing, there is a curious bug in the application which proves extremely irritating, and that is that if the app is open, running OS X 10.6.8, restarting the computer will be prevented by Wunderlist, only for the app to be shutdown or 'crashed', and forcing you to restart again.
That aside, and I'm sure it'll be fixed soon enough, it's a great app that you should give serious consideration on any platform its available for if you're looking for a to-do list application.