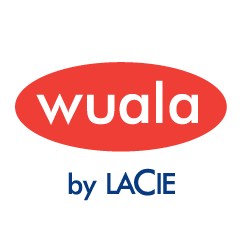 One thing about the 'tech' world is that you will often see brand names popping up in places you didn't really expect them to be, and so perhaps it might surprise you to see LaCie who we last saw with their LaCinema Mini HD Home Media Centre as the big name behind the latest innovation in online storage: Wuala. On the other hand there are many similarities… such as that both seem like very good products!
So what's so innovative about Wuala? Well instead of using the standard client-server model which is common place (i.e. all your files are stored on a server somewhere and you access that every time you want to retrieve them) it uses a peer-to-peer 'grid' algorithm which uses unused disk space from users across the user network in addition to the standard data-storage centre.

There are many advantages to this kind of system all of which make Wuala very attractive to use, and set a precedent that I'm sure will be copied in the future. One of the main benefits is that if you are willing to sacrifice certain amounts of space on your hard drive to the Wuala community you can receive online storage in return which means users are not paying a fixed rate.
The obvious advantage of this is that it will be significantly cheaper than other online storage systems, and it also means you can be a lot more flexible about the space that you offer and thus how much you pay.
Of course there is no obligation to offer parts of your hard drive, although you should not be put off by either the fact that you will be storing other people's data, or that they will have yours, as it will be heavily encrypted so that the only mechanism for getting to the data will be through the Wuala system.
If however you choose not/cannot offer the space you can still benefit from the other advantages from the peer-to-peer system as well as the potential of up to 1TB of online storage at (and I quote) "competitive rates". Of course you will have to shop around to confirm this if you don't have spare hard drive space lying around, but if you do then this does seem like a good option, but there are more advantages…
Much in the same way that torrents offer potentially much quicker downloads you are offered virtually unlimited bandwidth through the system for not only downloads but uploads as well (something often neglected) and you can have up to 100 peers working in parallel for each file.
The Wuala system is also quite convenient: it runs using a Java in-browser platform meaning that so long as your computer supports java which is pretty much 99% of computers (including Windows, Linux and Macs) and the drag-and-drop system makes it easier to add files – in this sense it's a service which provides an alternative to the Dropbox online file sync service and setting up specific hardware such as a network attached storage system.
However, it's also useful for easily sharing files with others, and although this is something shared by many other online file storing systems, it is easy to send a link to friends/family/colleagues which allows them to access the files. This is definitely good to have more competition
All in all it has to be said that Wuala certainly looks like a good idea, and if you are interested it is well worth taking advantage of the free 1GB storage that's on offer at the website. Of course it is worth being slightly reserved: it is more than likely that the system may not live up to all the claims it makes, and that there may be a few niggles as it finds it feet, but the idea is definitely a solid one and I can see myself using this as my storage-of-choice in the future!