People are always sending files to each other over the internet. Whether it's a set of photos, a set of documents or another form media, and the vast majority of these files tend to arrive in a compressed format. The problem is, there are so many different programs out there that offer to compress your data, you never know what file formats you're going to have to deal with.
We've taken a look at a number of programs, such as Stuffit Deluxe, which can compress files, but it's not always easy to find a program to open all of these files on the other end. Fortunately, there's a small tool called Universal Extractor, available for free on Windows, that will take virtually any compressed file format that you care to throw at it, and extract the contents, making your life a lot easier.
The download of Universal Extractor is only 5MB in size, so it won't take long to come down on any connection. The installation process is a little more involved than most though, as you can check what files you want to support once the program is installed. You can also choose to integrate Universal Extractor into the Windows Explorer context menus so that you can extract the contents of a file with a couple of clicks in your explorer window, which is a real time saver.
Once you have selected all of the components that you wish to install, the installation itself will be completed in a matter of seconds. When everything is installed, you will be able to extract files in one of two ways. The first way that Universal Extractor allows you to extract files is through the context menus that I mentioned before, as long as you didn't un-check the option during installation.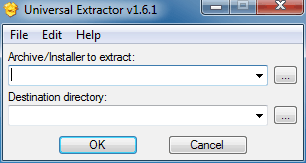 You will only see the option to use Universal Extractor when you right click a compressed file that the program is compatible with, and you will have the option to 'UniExtract Files…', which allows you to extract the files to a folder of your choice, or you can 'UniExtract Here' which extracts all the files in to the same sub directory which you're currently in. You can also choose to 'UniExtract to Subdir', which will create an additional directory in the folder you're currently in, and place the extracted files in there.
Alternatively, if you didn't enable the context menu option at installation, you can use the GUI of Universal Extractor to extract the files. When I say GUI, I use the term fairly loosely, as it only consists of two selection menus and a few labels. Not that this is a bad thing; on the contrary, it keeps things really simple and you know exactly what to do without any hassle. Simply select the archive that you wish to extract, and select the directory in to which you wish to place it, and Universal Extractor will do its thing. If you want to change any of the preferences in the application, you can do this through the GUI too by going to Edit > Preferences.
Although it doesn't compress files itself, you don't need to look any farther than Universal Extractor to take care of any archives that you wish to extract. It's free, minimalist, and does what it says on the tin very well. You can download it from legroom.net.
Hoping to study Computer Science at University in the near future, you'll seldom see John without a computer in touching distance! His interests include building computers, reading all sorts of literature and of course writing for Zath to keep you updated on all the latest in the world of tech! You can follow John on Twitter as @british_geek.