Ever since playing Uncharted: Drake's Fortune, I've been dying to get my hands on a sequel, which is why I added it in my Top 10 Most Wanted Games of 2009, and that time is nearly upon us. But in the meantime I've been lucky enough to bag myself a code for the Uncharted 2 online multiplayer closed BETA.
There were only 14,000 codes given out to UK users to test their treasure hunter skills against each other until 12th October 2009 which is when the BETA shuts down.
When starting the game there was a small menu for me to either start playing online, watch the trailer or change the options. Upon looking further into the options, I found that I was able to link Uncharted 2 to my twitter account so that it updates your status. You can turn these on or off in the menu, but if you switch them all on, your status will update when you do the following:

Connecting to multiplayer
A cinema file is uploaded
A chapter is complete
Earning multiplayer money
Earning trophies
Reaching a milestone
It's nothing amazing, but just a cool little social networking perk to show off what you're doing. But the multiplayer is where all the fun starts.
Before you start you can set up your profile. In here you can choose which characters you'll be when playing online for both heroes and villains (which are the two teams you're put into). At first there are 5 of each to choose from and most people seem to have gone for Drake as their hero, including myself. The higher your rank goes, the more characters you're able to unlock.
Multiplayer Game Types
There are four game types to choose from, which are Deathmatch, Objectives, Co-op Objectives and Co-op Arena…
The Deathmatch puts you in teams of 5 with two teams playing at once. The winning team is the first to 50 kills or whoever has the highest score after 20 minutes.
Objectives has a couple of different games, one of which is very similar to the domination game in Call of Duty. There are 5 objectives to capture, and all you do is stand in front of it until it becomes your teams and then protect them from the other team. The second is called "Plunder" and your team has to reach the treasure before the other team and take it to your base. Again both games are 5 v 5 with the same time limit.
Co-op Objective is what I imagine the main game will be like. You and two other players will play through a short mission and get to a certain point. There are loads of enemies to kill along the way and is great fun to play through. Just wish this was longer.
Co-op Arena is similar to Co-op Objectives, but you and 2 other players have to collect a piece of treasure and take it to a certain point on the map before the enemy kills you. But if you do get killed, your team mates have a short time to revive you, as long as they're still alive that is.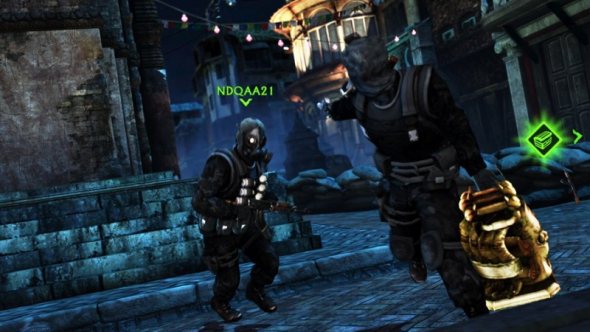 Graphics
The graphics are visually stunning, especially in the ice caves. Usually with BETA's you expect the odd glitch here and there, but I haven't experienced any lags as of yet and I sometimes have to stop to look at how nice it looks, at the price of getting shot! The animations are fantastic and really help to make the game run smoothly. Chasing after an enemy to gun him down is fun as you vault over walls and roll to duck behind them, then stick your gun over the top and let loose with your AK-47!
Gameplay
All the game types are very addictive and I found it easy to jump straight into as the controls are the same as the first Uncharted. After each game, you'll earn some money and the more things you achieve, the more money you get. This can be used to unlock bonuses such as extra playable characters, or new taunts (although you never get chance to use them because of all the bullets flying at you), better perks such as improved aiming etc. You can also earn medals, which are given out after completing certain things, like getting three kills in a row without dying or punching someone to death!
In Summary
People will no doubt be comparing this to how good Call of Duty is online, but you shouldn't do this as it's a different game and you can be a bit sneaky in this in my opinion. I'm not saying it's better or worse, just different.
From what I've played so far, I'm mightily impressed with Uncharted 2: Among Thieves. I know it's only the multiplayer I've been playing and not the full version of the game, but it's enough to give me my fix for now and get a feel for what the game is going to be like. You have to own this if you have a PS3 or perhaps planning getting one of the new PS3 Slim model.
Uncharted 2 is probably going to be the game of 2009 across all formats!