If you're a regular commuter on Britain's rail service, then it's a no brainer to get a great app for your smartphone that can keep you up to date with the latest train departures and platform changes as they happen.
UK Train Times, although fairly pricey at £4.99, does what it says on the tin, providing departure times and helping you plan journeys. It also packs in a few more features that you won't see on other applications available on the App Store, so let's take a closer look!
When you open the application, you'll be able to take a look at live departures and arrivals from any station of your choice. Immediately a stand out feature, as many other apps first ask you to input a starting point and a destination before providing information, you will be able to pick out different journeys coming in to and going from any station. The app will also provide information about which platform trains are arriving to and departing from, so you know exactly where and when to look.
If you do want to plan a journey, you can do so very easily from the journey planner on the main screen of the app. Simply select where you're travelling from and where you want to get to – if you don't want to travel immediately, you can add a time and date too – and the app will bring up all journeys which are available. You can also tap on a journey to see more detailed information such as where it stops, at what time it stops at each station, and when you will arrive at your destination.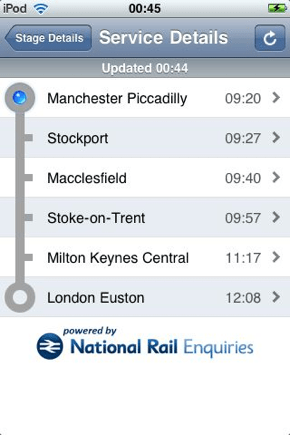 By going in to the settings and choosing a 'home station', you can use the quick 'Next train home' link to find the next train home from wherever you are. The app will use the GPS in your iPhone to pick out the nearest station, and instantly provide a screen full of times for all the trains going home from where you currently are. When testing the app, I found this to be a great time saver, and another stand out feature that other applications such as
TrainLine
don't provide.
When customising the application to your liking, there is a plethora of features that you can choose from. You can decide to show only direct trains to your destination, change whether distances are shown in miles or kilometres and tweak other settings to how you like.
When compared to other travel applications which are similar to UK Train Times, this app blows the competition out of the water. The interface is simple, and native to iOS, unlike some other apps which choose to create custom interfaces unnecessarily, and it's really easy to navigate between different sections thanks to the main screen which offers quick links to all relevant choices.
If you want to buy the app for yourself, it costs £4.99 from the UK App Store, and is well worth the money for frequent travellers and visitors to the UK who aren't familiar with train routes.
Hoping to study Computer Science at University in the near future, you'll seldom see John without a computer in touching distance! His interests include building computers, reading all sorts of literature and of course writing for Zath to keep you updated on all the latest in the world of tech! You can follow John on Twitter as @british_geek.