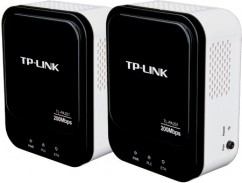 While the rest of the world may be heading wireless and getting ludicrously high speeds with minimal amount of cabling, I however am one of the few who suffer from the age-old problem of wires trailing up stairways, under doors and scaling walls. So, when the opportunity of testing the TP-Link TL-PA201 200Mbps Powerline Ethernet Adapter Starter Kit came to pass, I was pretty intrigued I can tell you.
So, What's It All About?
Powerline Ethernet adapters are not rare by any means, in fact a lot of the major manufacturers involved with networking gear make them, including the likes of D-Link, but it has never really been something I considered a proper solution to the wiring problem.

It's all pretty self-explanatory to be honest, a pair of devices use the mains electrical wiring already installed in your house as a link between your cable or ADSL router and computer, or whatever other Ethernet-ready device you need to connect with.
Setting Up the Connection
This process couldn't be simpler. Basically, you start with a pair of adapters and plug one in by your router/modem, and the second by your, for sake of argument, computer. There is one Ethernet cable included in the box, but you'll have to provide another of your own.
Once you have both adapters plugged in at the relevant points, you can connect one to your router or modem via Ethernet and the other to your computer again via Ethernet, you need to simply press the 'pair' button found on the side of both units. Then once you try to connect to the network on your computer, you will find there is seemingly a regular Ethernet connection available and you can connect as you would normally using the same security settings and such.
How Does it Look?
Well, if you're like me, you will no doubt look for any excuse to hide these from sight and whilst that may not always be possible, it is certainly beneficial as these units are hardly the best looking on the market. For example, the latest offerings from NetGear and D-Link are far superior aesthetically.
The majority of the models are a white plastic, though there is a black section on the front, which provides a background for displaying any of 4 LED's informing you of power status, active connections etc. There is also a 'grill' effect on the front with holes cut at regular intervals perhaps offering some sort of ventilation, or just for extra aesthetic value.

Delivery
So, the big question is does this solution actually provide any real benefit? Can it perform to the required level for tasks such as HD video streaming and bulk downloads?
Well I am happy to report that after testing the pair for just under a month and having no dropped connections at all, that the answer to those questions is a categorical yes. There really isn't a lot more to say than that though, it works perfectly and provides the same speeds as I would expect from a regular wired connection.
I have tested the connections streaming 1080p movies from another device using a wired connection and found no problems at all with flawless streaming and faultless quality. I also received speeds of up to 20mb downloading via FTP from an external server, on my Virgin Media 50Mb connection, which strangely is an improvement over the old Ethernet connection speeds but that is most likely just coincidence.
Summary
Overall the RRP of around £50 represents good value for money for this TP-Link TL-PA201 Powerline Ethernet Adapter Starter Kit, and when you consider you can get a pretty hefty discount from various sites around the web, this is certainly a solution worth considering in a home or small office if you're fed up wires trailing throughout. It means you can have a much shorter wire easy to keep out of sight and just simply tidies the place up a bit, without having to rely on a perhaps sketchy wireless connection.