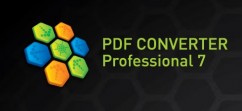 PDF is the mainstream standard for transferring documents between people online, and many programs such as Microsoft Office 2010 now have the ability to export documents and other files to PDF.
If you really wanted to get down and dirty with the format though, one of your only choices would be Adobe's own Acrobat X. With a cost of over £500 direct from Adobe, I think we can agree that it may be out of the price range of most people.
Enter Nuance PDF Converter Professional 7. It's priced at £50 – much more reasonable than Adobe's pricing of Acrobat X – and packs a lot of the same features as its more expensive counterpart. How does it match up? Let's find out.
[Read more…]
Hoping to study Computer Science at University in the near future, you'll seldom see John without a computer in touching distance! His interests include building computers, reading all sorts of literature and of course writing for Zath to keep you updated on all the latest in the world of tech! You can follow John on Twitter as @british_geek.