Having been content with storing all my files locally for many years now, I have never felt it especially necessary to invest in any Network Attached Storage, or NAS. However, I had heard great things of Synology and their offerings in this market, so ahead of testing the Disk Station DS410 NAS, I was very optimistic.
Hardware
The first thing you notice upon removing all the packaging of the Synology DS410 NAS is the attractive and compact case. It's hardly demanding when it comes to space so would easily fit on a desk, cupboard or even the floor (where I kept it for testing). Aesthetically, the box is completely black but for the four glowing LED's and the power button centred across the front of the device. The sides of the box are sleek with the company logo printed down both sides. The rear of the device is where it keeps all the ports and sockets, as you'd expect. With a couple of large fans dominating the space, the power socket, Ethernet, e-SATA and two USB ports are forced to the bottom which is convenient when trying to avoid leaving trip hazards.

Anyway, that's enough about aesthetics, because we're tiptoeing around what this device is really about. But first thing's first, how easy is the set up. Novices, such as myself, could really do with a device that isn't in the least bit complex to get going with. Thankfully, I found my way around the DS410 with relative ease. Four metal screws are found on the rear of the device and can be easily removed without even having to get the screwdriver out. Once removed, the rear of the box will simply open like a flap and give you access to four hard drive bays capable of holding any 3.5" or 2.5" drive. However, the access is fairly limited so for really getting inside you can either slide out the hard drive trays, or remove the bulk of the outer casing. This is quite necessary if you're fiddling with 2.5" drives particularly. So, in essence you just place your drive in the tray and slide it right in until you feel it's connected to the built in SATA adapter.
Software
Once you're all sorted putting in your drives, close up the case and you're all set to go with the Synology DS410 NAS. Plug your DiskStation in at the mains and wire the Ethernet cable into your router. Included in the original packaging is all the relevant software you need to get going on that side of things. Installation is simple, yet getting the software to detect any activity seems to be a problem for Mac OS 10.6 users (as I found on my Apple Mac Mini) at this point even though the software claims to be compatible and is installable. None the less, with Windows 7 I got going in no time and within just 10 or 15 minutes I had downloaded and installed the latest firmware for the device from my computer and I was all set to go. The detection software has a great interface which is extremely simple, including step-by-step walkthrough's for how to initially set up and configure your NAS.
So, once your NAS has been detected, selecting it takes you to an intuitive web interface. It's only once you get to this point do you realise the full capabilities of the device. Firstly though, you must create a new volume on the drive or drives you entered. You can partition each drive to your specification using the web interface and it's all quite quick and simple.
Features
One of the great aspects to this particular NAS is it's vast compatibility. It has the ability to handle RAID 5 as well as many other RAID configurations, in addition to the Apple Time Machine support for Mac users (if you can get it to work on Snow Leopard). It includes all of the features you would expect on any NAS server including FTP/HTTP server as well as media streaming and support for external hard drives and printers via the USB ports. Unfortunately though, there is no support for USB 3.0, which is a little disappointing but nothing hugely significant. There's also support for user accounts and basic backup features.
In addition to all of that, there is also iSCSI support, which allows access to your drives and make file transfers over long distances. Talking of file sharing, the NAS also, quite predictably actually, facilitates all operating systems and users when allowing the access to and transfer of files. Even Linux users can get in on the action.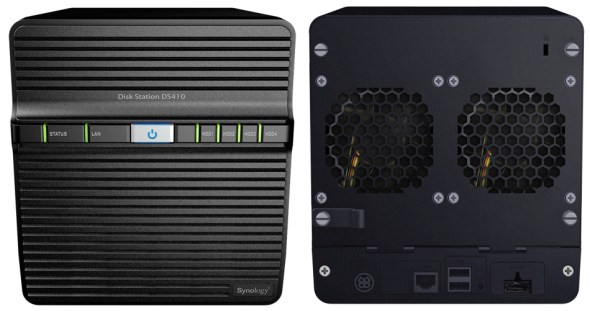 Applications
Probably the most impressive part of the DS410's vast array of features is it's arsenal of applications, including the Surveillance Station, Download Station, File Station and Photo Station. They can all be accessed from the local network or over the Internet like everything else on the NAS. Basically, they allow users to dedicate the server to hosting downloads via BitTorrent or sharing photos and such. They really do offer a great amount of services, which are simple to use even for a novice such as myself.
The Surveillance Station supports up to 12 IP cameras. For business users particularly, this is very attractive as you can use the server as a video recorder and keep all of your surveillance digitally in a compact space. There is support for a good amount of IP cameras on the market and for iPhone users there is also an app called DSCam allowing you to manage your surveillance whilst on the move.
Next, is the Download Station. Allowing users to download files over the network and store them in dedicated folders. The NAS can automatically download files by itself from many places on the web, even sites that require authentication like Rapidshare. As I touched on briefly before, BitTorrent is also supported through certain applications so the NAS can download files without the necessity for a computer to be running. Particularly useful if you want to download large files say, overnight.
Photo Station really does exactly what it says on the tin and is as simple in usability as it is in name. Allowing users to create photo albums and automatically store and share your albums. Viewable through your web browser over the internet adds extra convenience and perhaps eradicates the need for a flash drive or such when sharing photos. You can alter photos so far as you can add captions and comments and such. You won't find any fancy features as you would with an application like Picasa or iPhoto, but it's extremely functional and useful none the less.
File Station is a necessity and simply must be set up correctly. It allows users to browse all of their shared files stored on the NAS over the web. Also meaning you can download and upload files to and from respectively, a remote location. Although you can only perform one action on a file at one time, other users can do the same simultaneously from another location, which is useful to avoid any sort of conflicts.
Performance
The defining part of any NAS when it comes down to it is the read and write speeds. After all, that's really what it's all about. What's the use in having all these nice features when it takes far too long to make use of any of them? Thankfully, the DS410 fares reasonably well here too. In my short experience with the NAS I attempted to store several high definition movies on the NAS and found the write speeds to be extremely impressive hitting about 350Mb/s on average. Read speeds, although not measured numerically, where clearly sufficient as I was able to playback all of the files impeccably throughout. Predictably, the files were quicker to copy back than to send over in the first place so read speeds exceed write speeds on average. The guys at over CNet managed to carry out extensive tests on a variety of NAS servers under many different configurations and their results stacked in Synology's favour with this device.
Summary
So, having tested the Synology DS410 NAS many of its primary features, although there are more than I managed to explore, I found the device to provide great performance, an abundance of world class applications that make using the server extremely simple. A shame Snow Leopard seems to be unsupported thus far, but the software provided and the state of the art web interface is extremely impressive. The compact form factor of the device makes it convenient and attractive at a great price too at about £400 depending on the retailer. I would definitely recommend the NAS to business and home users alike due to it's versatile capabilities.