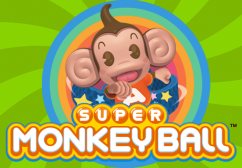 You may have seen that Super Monkey Ball 2 was released at the start of this month on the iPhone AppStore, but what about the original? Super Monkey Ball for the iPhone was one of the first major games that were available on the AppStore, and although it has its flaws, it's thoroughly enjoyable and well worth the £2.39 price tag – when I purchased it I recall it costing me £5, which in itself is a bargain.
It isn't all fun at first with Super Monkey Ball though, a lot of people complained about the extreme sensitivity of the accelerometer on the iPhone when playing and it proved rather hard to keep my chosen monkey on course for the goal! Once you get used to the controls, you're left with one of the most entertaining games I've played; the concept is extremely simple yet rather challenging, especially in the latter stages where the courses become more challenging.

After selecting your monkey (you can choose from Aiai, MeeMee, Baby and Gongon) the goal is simple – navigate the course without plummeting to your virtual doom and make it to the goal at the end. Sounds simple, right? Tell me that after completing the game!
The first stages are simple, move the monkey without falling off. As the game progresses, however, you face parts of the course that spin around, drop, move and raise up and down. To keep those lives of yours up, you can collect banana's on your way to receive more lives. Oh, and did I mention you have a time limit? Each course has a time limit of just 60 seconds, which you'll need to get past in order to progress to the later levels!
When If you complete the game, you can go back to unlock bonus levels at each stage by collecting every banana on the course, which means there's plenty to go back to when you're done with the levels!
If you're up for the challenge, you can buy Super Monkey Ball on the iPhone from the AppStore – for the record, it took me 4 months to get through all the levels, so I hope you have a lot of patience!
Hoping to study Computer Science at University in the near future, you'll seldom see John without a computer in touching distance! His interests include building computers, reading all sorts of literature and of course writing for Zath to keep you updated on all the latest in the world of tech! You can follow John on Twitter as @british_geek.