Apple includes a lot of software with Mac OS X to ensure that you don't need to fill up your hard drive with needless utilities where bundled software can serve the same purpose – you can also see further improvements coming in our Mac OS X 'Lion' screenshot preview tour.
When it comes to compressing and uncompressing archives, the built in Archive Manager usually suffices, but if you download a lot of files off the internet or transfer files between colleagues then you've probably encountered files beyond the standard ZIP archive that sends Archive Manager running away like Shaggy after he's seen a monster.
For those times where Archive Manager just doesn't cut it, I went on the hunt for a piece of software that could handle most of the things I care to throw at it, and Stuffit Deluxe 2011 caught my eye thanks to its wide range of file compatibility and great design. How does it stack up to the competition, though?
Stuffit Deluxe is comprised of two applications: Stuffit Archive Manager and Stuffit Destinations. Stuffit Archive Manager is your go-to application to view all of the compressed collections on your hard drive. All Stuffit archives, as well as a number of other standard archives such as Zip, Tar and RAR archives.
With all of these files indexed in one place, it's super easy to find what you're looking for without searching your entire drive. If you only know part of a file name but you know that it's a Zip file you're looking for, you can view all Zip files on your drive, filtering the contents with part of the name. This make it a lot easier to find than trailing through all of the files on your hard drive.
In the same window, if you select an archive that you think you may be looking for, you can actually preview the contents of the archive without de-compressing it. Any images that are present in an archive will appear as thumbnails in the preview section underneath the list of archives, and you can change which images appear by adjusting the minimum file size.
It is a little intensive on your CPU though, as each time you re-load the archive all of the thumbnails are re-generated, they aren't cached from the previous time for quick loading as the contents of the archive could change.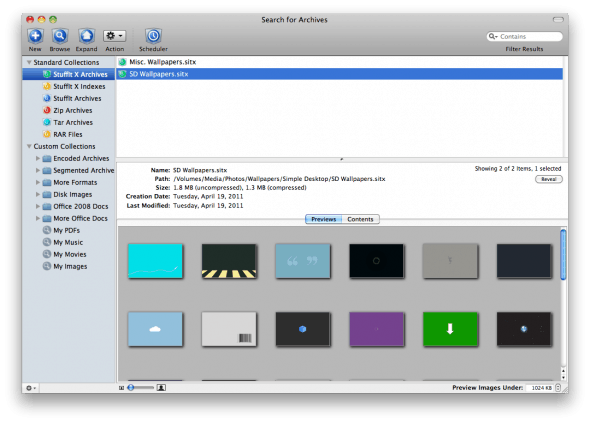 Stuffit Destinations is quite a bit different from your archive manager, in both design and function. Destinations role is to do just that, offer an easy to access destination for any files that you want to compress. If you're always sending files here, there and everywhere then having the destinations bar floating on your desktop is really handy, and you can just drop a file on top of any format option to have it compressed locally, uploaded using your FTP settings or even sent in an email. To have so many options available may be overwhelming, and unnecessary, for some users, but for power users it's a fantastic tool.
If you want to hide the Destinations bar, you can do so by pressing the small icon on its right hand side. This will collapse it to a small tab, available to click, on the left or right hand side of your screen. This tab is always present over your current application, so if you don't intend to be compressing files all the time during the day you may simply want to hide this instead.
If you are forever compressing things throughout the day, then Stuffit 2011 will be absolutely invaluable to you, and well worth its $50 price tag. You can download Stuffit from the official website.