If you have been following Zath for a great length of time, you may remember way back in January of last year where we reviewed SteelSeries' World of Warcraft Keyboard. In fact, fans of the game may even have one.
But now there is great news for fans of the forthcoming StarCraft II game as SteelSeries unveil their new range of limited edition peripherals with fans of that game in mind.

SteelSeries ZBoard Limited Edition Starcraft II Keyboard
In a similar fashion to the World of Warcraft Zboard, they have pretty much just replaced the additional keyset and artwork with an array of controls, which compliment the common combinations of keystrokes used in the game.
Aesthetically, the keyboard is fairly traditional for the most part with hugely raised keys and the majority being a simple black plastic. However the Starcraft II: Wings of Liberty keyboard artwork provides the perfect background for the bespoke keyset.
In terms of use as a keyboard, it could be accused of being a tad old-fashioned with more and more modern keyboards sporting the favourable 'chiclet' design. However, with gamers in mind it is unsurprising SteelSeries have opted with the raised keys.
Adding to the basic level of keyboard functionality, the keyboard itself features 2 USB ports for added convenience as well as enabling the 'anti-ghosting' feature found in all of SteelSeries ZBoards which simply allows even more simultaneous keystrokes on top of the traditional keyboard.
SteelSeries QcK Limited Edition Mouse Mats
Without boring you with an overabundance of tedious details, the QcK StarCraft II Marauder and Tychus Findlay are high quality gaming surfaces…mouse mats…or mouse pads — whatever you want to call them. Made from high quality cloth embellished with unique StarCraft artwork similar to that found on the ZBoard.
These Starcraft II mouse mats will no doubt offer the usual high quality gaming surface as found in SteelSeries other products, such as the World of Warcraft mouse mats that we also reviewed. It provides the perfect companion for the Starcraft II ZBoard and for fans of the game one or other of these mouse pads will be a no brainer.
I wonder if they'll have any plans to release a Starcraft II mouse like they did with the World of Warcraft mouse…now there's an idea!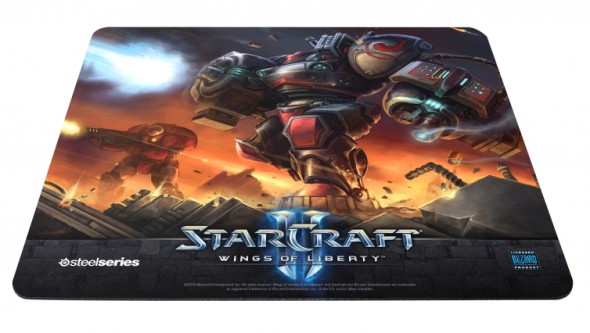 Via – Frag You