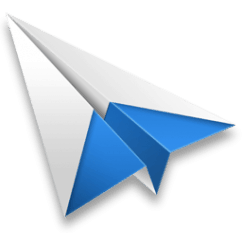 One could argue that with social networking and IM services freely available across the internet, email has lost some relevance in the past few years. However, 107 trillion emails were sent in 2010 with an average of 294 billion emails being sent every single day. That's a lot of email being sent from one end of the globe to the other (or from one room to another… people are so lazy these days!), so you need a client that you can rely on to manage everything going on behind the scenes for you.
Many clients such as Thunderbird and Postbox follow a similar formula: give users a big window full of awesome tools that not many people know how to fully use, fill it with lots of dialog boxes and panes and let people manage their email as well as they can.

For those not comfortable with lots of buttons and complex looking windows, Sparrow tries to keep things as simple as possible, and is clearly inspired by the interface of Twitter for Mac with just a small window at the side of the display. Is it sacrificing features for a simpler interface, or can it compete for the attention of power-users against the likes of Thunderbird? Let's check it out…
Setting up Sparrow, you can now use either POP3 or IMAP to connect to your mail account. IMAP access was only recently added in the latest update after the app went live on the Mac App Store, and it's pretty essential to most users so it's good to see that compatibility there.
Once you have set up your account, which Sparrow makes as easy as possible, you are presented with a simple window containing all of the emails in your inbox. There are four buttons at the top which allow you to compose, reply, archive or delete an email. To the side of the window, you can navigate through your key folders, with quick access to sent and starred mail.
There's no denying that the interface is very easy to get used to, and there is almost no learning curve involved before you're using it efficiently. But efficiency only goes so far when you're working with an app that likes to be as minimalist as possible. Some things are just made
harder
than they ever should be by the interface.
Here's an example: I get a lot of mail that ends up in my spam folder. When I'm not being contacted by fictitious Chinese morons offering to manage my digital photo collection, quite a bit of useful content ends up in there, so I'd like to see at a glance whether I have spam mail. In most clients, I'd just glance at the 'Spam' label and see if there are any new messages there, but in Sparrow the spam folder isn't even visible unless you dive in to a sub-menu, and even then it doesn't tell you if there are any new messages in the folder until you actually click on it to open the contents.
Although Sparrow has its faults, that isn't to say that it doesn't have some really great features as well. The compose message window looks absolutely gorgeous, and it even has font options visible on the window like a text editor, which is great for quickly changing how you want your message to look. You can also choose for the app to live in your menu bar as opposed to your dock, so that you can keep things less cluttered.
Overall, Sparrow is a nice little application for managing your email, but I can't help but think that it was designed for people who don't actually like managing email, and just want quick access to their inboxes. If you're a power user who likes to have lots of tools at your immediate disposal, then Sparrow probably isn't for you.
If you want to try Sparrow out for yourself, you can download it from the Mac App Store. There's also a 'Lite' version available for download.
Hoping to study Computer Science at University in the near future, you'll seldom see John without a computer in touching distance! His interests include building computers, reading all sorts of literature and of course writing for Zath to keep you updated on all the latest in the world of tech! You can follow John on Twitter as @british_geek.