As I'm sure I've mentioned before the tech industry has a tendency to try and get either bigger or smaller (or both) until it reaches the limits of practicality at which point manufacturers try and push the boundaries in a different axis — and that's what's happened with the Sony Walkman A845 ultra-slim OLED MP3 player.
Having realised that MP3 players already have got small enough, have more than enough memory space (who realistically listens to more than 50 albums at one time?) and screens that are big enough to allow video watching but don't make the player too big Sony are pitching for the crown of the next dimension — width — with their thinnest MP3 player yet.
With a thickness of only 7.2mm (although only just thinner than the thinnest laptop) and a weight of only 62g Sony have pushed the boundaries of what defines 'Ultra-Slim' and this really is the MP3 player for those of you who are very weak, supermodels or obsessed with technology. Unfortunately I do feel obliged to point out that I can't remember consciously thinking "Oh, this MP3 player is too heavy!", and in fact the iPod Nano beats it for 'skinnyness' at 6.2mm, but I'll let that pass for the sake of progress!

Of course this being a Walkman you can expect it to be more than just a pretty body — although while we're on the subject it does look very chic which the bold gloss colours and characteristic metallic circle-based button system that we've come to expect from Sony and which is by no means unattractive.
The rest of the form is taken up by the 2.8" OLED screen which as the makers are keen to point out offers 'superb colours, high contrast ratio, wide viewing angle and super-fast response time' and given the quality of past Walkman screens I'm not inclined to disagree. However if that's not good enough, or you want to share it with more than the three friends you can crowd round the screen, you can attach it up to a TV using an optional (and probably relatively expensive) AV cable which will output at 720×480 at a respectable 30fps.
Whilst nothing else apart from the 16GB version has been mentioned yet I think it's safe to assume that this will be available in a range of memory size options (as well as colours, although I am of the opinion that the gold one is quite horrible!), and suspiciously in true Sony fashion it's also lacking in prices which probably suggests it won't be cheap.
Moving back to the specs and we re-discover the host of 'Clear Audio' technologies featured in previous Sony Walkman MP3 players namely 'Clear' bass and stereo, DSEE (Digital Sound Enhancer Engine) and S-Master Digital Amplifier all of which should combine to offer sound quality to match the looks (and unfortunately price).
Finally the A845 comes with high-quality 13.5mm EX vertical in-ear headphones which as well as being impressive with regards to sound quality also feature Digital Noise Cancelling which promises to remove a very specific 98% of ambient noise, and whilst the efficiency of noise cancelling can vary one can imagine that these would again match the rest of the player.
Finally there's the battery life which should last for up to 29 hours for music, and 9 for video, which is more than necessary for even the longest of journeys. Overall the Sony Walkman A845 is quite impressive, and Sony have managed not just to push forward world beating design with regards to how thin this OLED display MP3 player is, but also backed it up with the usual good quality. The only obvious drawback will probably be the price but we'll have to wait till February to find out!
UPDATE: We've now had one in for testing and your can find our what we thought in our Sony Walkman A845 review.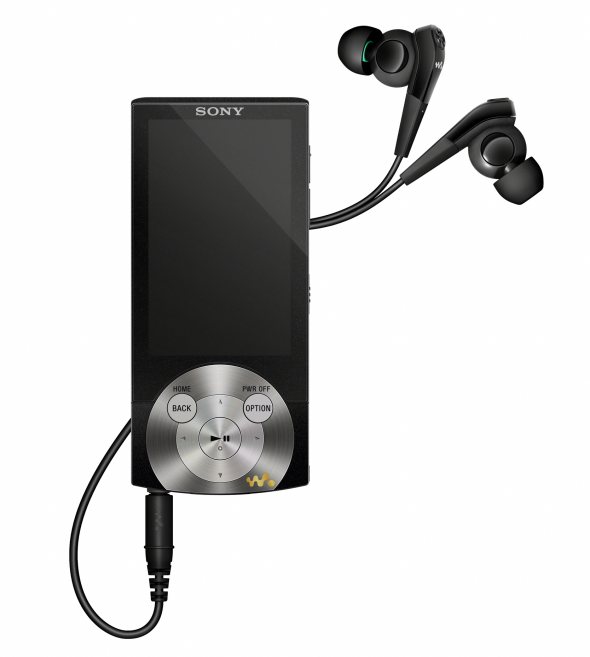 Via — GadgetLite & Sony