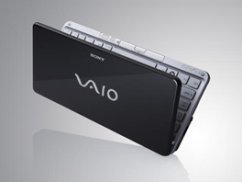 As you may have read already, netbooks are a big thing and they are attracting some of the biggest names. However Sony have been conspicuous by their absence and there has been much talk as to what is going on behind the walls of Sony HQ, most of it under the assumption that they are planning a venture into the packed netbook market.
So come CES 2009 many people were very excited at the prospect of a Sony Netbook and as they crammed round the stall they got a view of something very interesting. The Sony Vaio P-series, a product which follows the successful line of Vaio products renowned for their quality, and the letter P almost definitely standing for portable. But why the confusion? Well read on!

The definition of a 'netbook' is (courtesy of Wikipedia):
"…a light-weight, low-cost, small (with 7-12 inch screens), energy-efficient, highly portable laptop that achieves these parameters by offering fewer features, less processing power"
At first glance this would seem to fit the bill perfectly – it is definitely light at 640g, and is in fact the lightest 8 inch 'netbook' you can get. It also has, as mentioned, a small screen of only 8 inches designed not for intensive viewing but for using on the go. Is it energy efficient? Well it has an impressive low power LED screen but apart from that we can only assume that Sony will transfer some of their manufacturing prowess into this new product.
It also has the 1.6Ghz processor used by most netbooks (including the Acer Aspire One, the Asus Eee PC 901, Archos 10 and the Samsung NC10) but this has been stretched to incorporate Microsoft Vista and all the features that that entails. So why is it that the Sony PR department shudder when the word netbook is mentioned?
They believe their product to be a 'Portable PC', a new name that they have coined to put themselves in a different class to netbooks. They feel that the P series is something that will let you do exactly what a laptop would, only you can put it in your pocket small bag, more of a continuation of your home PC experience than an extension something that is very obvious by the fact that they have opted for Vista.
Some may say that it blatantly is a netbook as it has all the right ingredients even if it is on the 'classy' side but I disagree and find myself siding with Sony but for a completely different reason. And this is one of the most crucial elements, I believe, as you what makes up a netbook: price. There is no real way of preparing you for this, so I will just tell you: it will release with a price tag of £850.
That really is a massive figure, and despite the fact that it has a 128Gb SSD and that it is running Vista you still cannot see how this figure was made other than that it is made to fit in with all other Vaio products. Truly this is a big number, and one that strays easily into the reaches of UMPCs, or you could even hire someone to carry your home PC and monitor for that price.
If it was perfect I suppose we could let them of, but there are still some faults: it has no trackpad instead opting for a nub to save space and although it may look nice it would take a lot of getting used to. It also has a mediocre battery life of 4 hrs (a six cell battery pack costs an extra £120 for 5 hrs more) and I feel that not even GPS or the other usual 'add ons' can justify the price.
So what have Sony done? They have created a beautiful machine, one capable of doing everything you could want to on the move as well as retaining wonderfully good looks. They have also done something different which makes a change from the netbook copycats which is also nice. But they have let themselves down with their pricing, and really I cannot see this doing as well as it would with a £400 price tag. But maybe Sony are saving a real netbook for later… unfortunately I doubt it.
So rather than an actual netbook, what do you think to this Sony Portable PC? Would you spend this kind of money on a product like this?
UPDATE: You can now get an actual Sony Netbook (Vaio W) rather than this "portable PC", obviously it's somewhat cheaper and probably better value for money for most people!
Source – Sony