The last time we had a look at the Cyber-Shot camera range was just about this time last year when Sony were expanding the Cybershot digital camera range for 2009, and now Sony have added two more cameras to the already extensive range in the form of the multi-purpose H55 and the omni-weather TX5.
Sony Cyber-Shot TX5
Firstly we'll look at the Cyber-Shot TX5 which is not only the first waterproof Cyber-Shot camera but also claims to be the world's smallest and thinnest waterproof digital still camera out there, which is no mean feat but also not that surprising considering that it's only 17.1 mm thick and weighs in at only 128g.
Obviously the main selling point of the TX5 is how durable it is: as well as being waterproof up to 3m in depth (which means not only will it survive splashes and spilt tea, but also drops into water and underwater photography) it's also dust-proof, shock-proof and interestingly freeze-proof which means it should be able to survive anything a normal person would put it through.

Another nice feature related to this is that the 3" LCD touchscreen is easily usable even when underwater and wearing gloves (which is normally a complete pain if you are out biking/riding/boxing!) and come in a range of five amazingly sensibly named colours — black, silver, pink, red and green.
With regards to the specs go as you can imagine they have been somewhat compromised to accommodate for the fact they have to fit into a weatherproof case, but they are still far from poor. The Exmor R CMOS Sensor offers up to 10.2 megapixels and works along with a Carl Zeiss lens which provides 4x optical zoom and a 25mm wide angle allowing for both macro and expansive shots.
These two combine to allow for full resolution continuous burst shots of up to 10fps meaning you'll always get the right moment, and failing that there is 720p HD movie shooting. There is of course also a whole range of other technologies to make using the Sony Cyber-Shot TX5 digital camera that bit easier such as the Anti Motion Blur and Intelligent Sweep Panorama both of which do exactly what they say on the tin.
Sony Cyber-Shot H55
Moving onto the Cyber-Shot H55 and we have a very different more traditional (in the digital sense) camera which offers high quality and zoom to offer a lot more versatility — although of course that's not going to be a lot of consolation if you drop it in the pool, so this is definitely for the more relaxed casual photographer!
There is nothing particularly special about the styling (although again the two colours [black and silver] are sensibly named) and it does a good job of looking understated whilst maintaining an element of 'suave' — or at least as much as you can with a camera.
The first major advantage of the H55 is the resolution it offers with up to 14.1 megapixels available from the CCD sensor, with the high performance G lens being the second as it allows for a powerful x10 optical zoom which as you would expect makes it great for pretty much every casual situation.
Much like the TX5, the H55 also has 720p HD recording, although unlike the other camera the H55 has Optical SteadyShot image stabilisation which is enhanced with the exciting sounding 'Active Mode' which promises to offer up to 10x more shake correction which means you should still get clear steady clips even when walking. With the Cyber-Shot H55, you also get the not-so-intelligent Sweep Panorama, Face Detection and Auto Mode all designed to make your life that little bit easier.
There's no word on pricing yet, but expect to see that later this month when they are released, but I can't imagine there will be that much difference between the two. In conclusion too solid additions to the Cyber-Shot range: one for those more active (or perhaps clumsy) and another for those more casual and stationary photographers!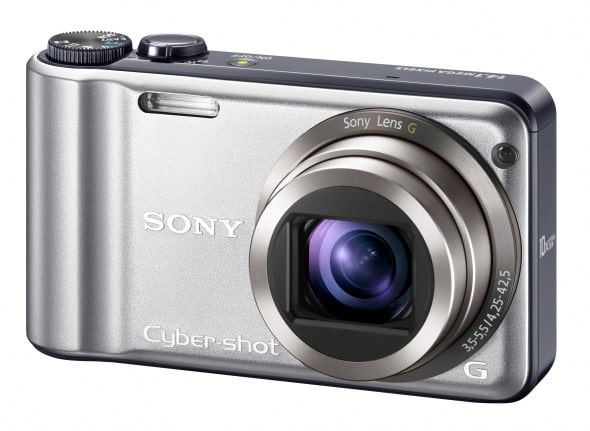 Via — Sony & Gadget Venue