No matter how much Apple try to improve iTunes, there are still missing features that people want… Say hello to Songbird, a free music player / iTunes alternative with a web browser built right in, available for Windows, Linux and OS X.
When you start Songbird for the first time, you have the option to import all of your songs from your iTunes library, and install various plug-ins that come with Songbird, including Last.fm and the 7digital music store. Installation of plug-ins (I chose all available) and iTunes integration took about 30 seconds. Regular playlists were imported, but my own smart playlists weren't.

Amongst the plug-ins installed was one called mashTape. When you play a song, you're presented with artist information, news, photos and videos at the bottom of the window. I found the news feeds and photos to be rather pointless for some artists, as it worked on key words based on the artist you were listening to. If I was listening to a song by Queen, I'd get pictures of cats with crowns, boats and a lot of playing cards, but no pictures of the band! Videos are slightly more accurate, as they're streamed from YouTube. Additional plug-ins are available for download from here. Included are two featured add-ons: LyricMaster and MediaFlow.
LyricMaster displays the lyrics of the song that you're currently listening to. Initially, I was skeptical of the accuracy of the lyric plug-in, as I have a rather obscure music library, (Oomph anyone?) however, every single song in my library was recognised, which left me pleasantly surprised.
The second featured download, MediaFlow, is almost a carbon copy of iTunes' cover flow. Although it may look similar to cover flow, it has very limited functionality. Apart from showing the cover art of the album playing (only 7 out of 75 albums have cover art in songbird although all 75 had cover art in iTunes) it doesn't have any other function, and when you're flicking through albums, the graphics aren't at all smooth. (Testing was carried out on a 2.4GHz MacBook with NVIDIA 9400M graphics and 4GB DDR3 RAM)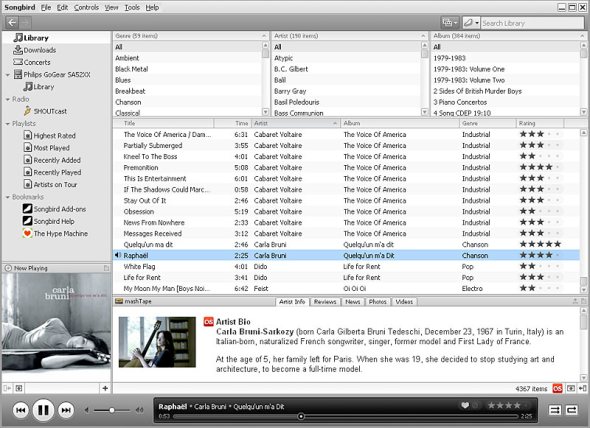 If you selected the add-on at installation, the 7digital music store is already integrated with songbird. The songs available are in MP3 format, and the bit rate differs from album to album. Some songs are encoded at 320kb/s and some as low as 192kb/s, priced at between 79p and 99p a song depending on the quality. In the iTunes store, songs are in AAC format, encoded at 256kb/s and priced at 79p for a standard length song. I wouldn't mind using either, but if I was to pay for music online, I'd prefer the new iTunes LP versions.
Finally, I tested the built in web browser. I found it to be great for downloading add-ons for Songbird, as it was a seamless process. Songbird recognised that you were downloading an add-on, and when you installed it, prompted a restart of the application. When it was running again, the add-on was up and running. Although I'd use it to download add-ons, I wouldn't use it for everyday web browsing. It performed capably for light browsing, including YouTube and Facebook, although I still prefer Safari or Firefox.
In conclusion, for me, Songbird is a great open source music player application, and the add-ons make it a great application for listening to music, and occasionally surfing the web if for some reason you couldn't access your preferred browser. However, it doesn't feel as finished and seamless as iTunes. Despite this, I'd definitely use it as my default media application in Linux over media players available for the platform.