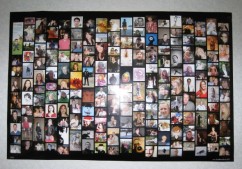 A new website called Social Artworks opened its doors for business today which is combining an established creative idea with the personal and social network aspect of Facebook.
The product that Social Artworks have launched today reminds me of my student days when I'd often see all sorts of collage-style posters around the place, although admittedly these often revolved around alcohol. However now you get yourself a custom collage poster or canvas to hang on your wall which is quite literally personal to you!

Having tested out Social Artworks for myself and created a personalised collage poster of all my Facebook friends' profile pictures, I can certainly confirm that the process for creating your custom poster or canvas is very simple and easy to use, a lesson that other personalised gadgets/product design sites could learn from because some are often quite complicated to use.
In the case of Social Artworks' poster/canvas design process, you simply choose from the layout options as shown in the screenshot below and then log in to your Facebook account using the secure Facebook Connect system and then choose as many or as few friends you'd like to be in your profile picture collage!..obviously the more friends you have on it, the more it becomes your very own Where's Wally game!
Once you've done that, enter your address and payment details, you can then expect to receive your product (a glossy high-quality poster in my case) within the following few days ready to hang on your wall!
Also on the Social Artworks homepage in a section marked as 'coming soon', is a free screensaver download of your Facebook friends with the same design of your poster, so that should be another cool addition to the products/services that this website provides.
Social Artworks would definitely seem to be a website to keep an eye on as there's no doubt plenty of other cool potential products on their way too!
Source – Social Artworks