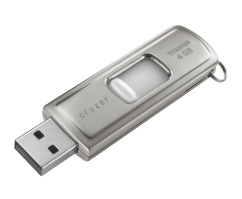 It took me a while to decide upon getting a Sandisk Cruzer Titanium 4GB USB memory stick after my previous Corsair Voyager died on me after around 3 years of loyal service. This was mainly because there are so many USB memory sticks out there to choose from, it took a while research what exactly was worth spending your money on, but I believe I've managed to find one!
It's encased in a very solid-feeling titanium casing which not only seems robust but also looks rather smart too. I found the rather innovative sliding mechanism of the actual USB interface to be a really good feature because it means you're not going to (inevitably) lose the cap as with many other standard USB memory sticks. However, I don't know about you, but give me something like this and I will tend to fidget with it all day – which I often do if it's sat on my desk and not plugged into the computer! 😉

Having transferred quite a few large files over onto the Cruzer Titanium just before rushing out leaving the house (when anything seems to take an age), I found this to have really good transfer speeds, it wasn't hugely surprising as that was one of my main requirements in buying a new memory stick, but I'm glad to say it didn't disappoint.
The Sandisk Cruzer Titanium is also ReadyBoost enabled to help speed up the performance of a Windows Vista PC is required, this wasn't vital to me as I run 4GB in my PC since memory is so cheap these days, but it's good to have the option of using it on someone else's computer.
Features:
– Rugged strength. Innovative crush-resistant metal casing protects against wear and tear.
– Performance: 15MB/s read speed & 9MB/s write speed
– Lightning speed. Very fast read/write speed (15MB/s read, 9MB/s write)
– Smart design. No more lost caps. The retractable USB connector prevents accidental breakage and prolongs product life.
– U3 Smart enabled. Includes the following U3 compatible PC programs:
– CruzerSync desktop synchronization tool
– SignupShield password manager
– McAfee antivirus software (trial version)
– For a full list of U3 compatible PC programs, go to www.u3.com

Specifications:
– Pentium PC or Macintosh computer with USB support
– Windows 2000 SP4, XP, Vista and Mac OS X v10.1.2+ **
– USB 2.0 port required for Hi-speed transfer
– Requires high power USB hub port
** U3 functionality is not supported under Linux or Mac OS (any version) but device is MSC
Before buying this I'd read about potential compatibility issues with Windows Vista and the U3 system pre-installed on Sandisk memory sticks – therefore the first thing I did was to uninstall that from the device. This was a personal choice; it might be fine now – is anyone using it with Vista and not had any problems?
If you do remove it as I did, I would recommend that you install the brilliant PortableApps pack that includes Firefox, Open Office (a free suite of programs that you can use to work with your Microsoft Office files), in addition to a wide variety of other applications for things such as email (Thunderbird), graphics (Gimp), file transfers (Filezilla), games (Sudoku) and various other handy programs.
Literally, the only downside that I have found with this memory stick was that I had to take off the small ring that attaches it to your keyring since it makes the most annoying noise otherwise — I've never understood why you'd want a USB memory stick on your keyring? Yes, you probably have less chance of losing it, but I don't fancy having to have all my keys on display when I plug it into a computer.
In summary, I think the Sandisk Cruzer Titanium is a great performing, compact USB memory stick which is definitely recommended!

Simon Barker is the founder and editor of Zath and has over 25 years worth of experience of using computers and technology in general. He can normally be found researching or testing the latest in technology products.
He has provided IT consultancy services to both home and small business users for over 15 years, building PCs, fixing hardware/software problems and providing comprehensive training.
Simon always likes to get the best out of the technology he is using, by both making informed decisions of what products to purchase and also optimising how it is then used to get the most benefits possible.
If you'd like to follow and/or contact him on Twitter, please feel free to do so – @SimonBarker.