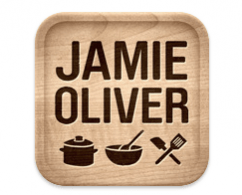 The iPad is a great portable cookbook that can be placed in the kitchen whilst you're cooking. You no longer have to keep large, heavy cookbooks with lots of recipes that you'll never use lying around. Instead, you can mount your iPad on a stand and view only the recipes that you want to use.
That's the idea behind 'Recipes', a free app from Jamie Oliver that allows you to purchase packs of recipes for just £1.49 each as an in app purchase. Each pack includes several recipes and comes with some instructional videos as well.
The interface of Recipes is really simple and easy to navigate thanks to a large focus on cover flow on the main screen of the app. All of the recipes in the pack that you're currently viewing are shown in a large cover flow so that you can swipe between them and see large images of each dish once completed. If you want to view a recipe in more detail, you can tap on it to access all the relevant information.
Beneath the cover flow of all the recipes in a pack are the different packs themselves, that you can scroll through, see what they contain and buy for £1.49 each.
When you find a dish that you want to make, you can tap on it to view the ingredients and equipment needed, and you can even adjust all of the measurements on some of the recipes depending on how many you want to cook for.
Each individual recipe is also presented in a large cover flow style interface, meaning that you can view a large picture of each step, as well as the description that goes with it. For those using the app who haven't cooked a lot before, the pictures really help, so this is a great feature that's bound to get more people successfully cooking with Jamie Oliver's recipes.
When viewing the ingredients, you can add them all to the shopping list feature which is bundled with the app. Unfortunately, you have to add all of the ingredients to the shopping list and can't just add each individual item, which is slightly disappointing. Once you've finished viewing a recipe, then you can tap the 'Done' button to return to the main menu.
There are a number of settings which can be altered from within the application, including the formats of weights and measures for each recipe. You can also choose to toggle 3G data downloads in case you find yourself on the go and have an insatiable urge to get some new recipes (well you never know…). There's also an option to toggle off 'Jamie's Voice', and although I'm unsure what this relates to, a lot of people will take great delight in sliding the toggle to 'OFF'.
Whether you're a cooking aficionado or a novice who tends to stay away from the kitchen wherever possible, there's no denying that Recipes is well worth downloading on your iPad. The recipes included in the app are cheap and the detailed images of each step will make things that little bit easier. You can download it from the App Store for free.
Hoping to study Computer Science at University in the near future, you'll seldom see John without a computer in touching distance! His interests include building computers, reading all sorts of literature and of course writing for Zath to keep you updated on all the latest in the world of tech! You can follow John on Twitter as @british_geek.