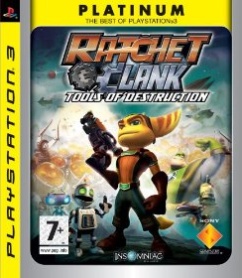 This is a welcome return for Ratchet and Clank.
I was a big fan of the games on the PlayStation 2, and now they've made the game bigger and it looks absolutely gorgeous in HD!
This time around, Ratchet is being hunted down by the evil Emperor Tachyon who wants to destroy the Lombax race and will stop at nothing to accomplish his goal, and Ratchet is the last one alive!!
It's the same type of game as the previous Ratchet and Clank games, but they're just so much fun. There's a lot of humour in the cuts scenes and some really good one-liners from Captain Qwark who appears again as the village idiot who just keeps ruining things and getting himself into trouble. Along the way, Clank starts seeing like alien robots called the 'Zoni' and he starts the think he's losing his bolts as only he can see them.

The weapons come in all shapes and sizes and are of course bigger than Ratchet himself, and some really cool gadgets including the 'Groovitron' which, once thrown, makes your enemies break out into some funky dancing, which is quite funny, and then your enemies are just sitting ducks there for the smashing. There's more to do to upgrade your weapons as you have to earn lots of Raritanium to earn extra power, ammunition etc which you'll need to do to have any chance of beating the bigger enemies.
Some people might be put off by the fact that this game is very similar in the way that our heroes travel the galaxy trying to find answers to the threat they face. But with some great scenery, HUGE enemies to destroy and new worlds to explore, there's no reason as to why you shouldn't buy this game.
It does get quite tricky at times, which is what I like about R&C games because you can't complete them in a couple of hours. There are the usual side missions that you can play to add a bit more fun and earn some extra bolts.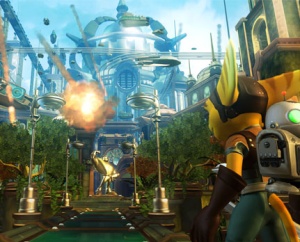 This has to be one of the best looking games of the PlayStation 3 out at the moment. There is so much depth to the scenes and you'll be stopping in the middle of a gunfight to look around at your surroundings (which isn't the best idea as you might kill Ratchet!!) because they do look that good!!
Whether you're a fan or a newbie to the Ratchet and Clank series, it's a game that is definitely worth having, especially now that you can it at a cheap bargain price with its PS3 Platinum Games release.
You can now buy Ratchet and Clank: Tools of Destruction for just £14.98.
Also watch out for the new Ratchet and Clank 'Quest for Booty' adventure, which is being released on the PlayStation Network very soon. So watch out for my review of that in the near future.
4 out of 5
Danny 'Ender' Martin has been part of the Zath team from pretty much the very beginning since he met Zath himself at Leeds Met University whilst studying Business IT. He's an avid gamer and a big film buff. Danny graduated from the University of Bradford with a degree in Computer Animation and SFX and now currently works at one of the biggest UK games developers, which will hopefully see some of his ideas hit the gaming world.