Ever wondered how the government decided to split up the country? I wouldn't be at all surprised if you said no and to be honest unless it's a job you probably have better things to think about, but an interesting survey recently released has some interesting results regarding how the UK's love for technology is dividing up the country.
Originally created for the BBC's 'Britain from Above' series data was collected from over 12 million anonymised landline British telephone calls which was then used to model a map of Great Britain split into 13 regions which theoretically make the least cuts between 'connections'.

Based on frequency and time the 'connections' were created every time a phone call was made, and then using some clever computer trickery researchers headed by Carlo Ratti of the Massachusetts Institute of Technology (MIT) divided Great Britain up by creating regions that split through the least number of connections.
The results of these are pretty interesting (and also look kind of exciting on the image) as they give a far more accurate view of how the country is socially divided rather than how it is divided through boundaries that have merely survived the test of time.
Some of the regions are very unexciting: London for example remains a singular region, as does East Anglia, the South West and South East, but it is Scotland and Wales that are the most interesting; despite being unified with England in terms of sovereignty at least there is still a clear social divide between Scotland and North England and the line dividing the two 'social' regions mimics the international one incredibly accurately!
However whilst Wales seems to have the south nicely divided up Central Wales is, as far as landline phone calls are concerned, becoming very much a part of the West Midlands whilst North Wales is essentially part of the North West of England.
Ok it is fair to say that this isn't going to change anything, and is in reality little more than a nice graph, but does it say something about how we communicate in modern times? Although as Mr Ratti said "…you'd need to analyse further data sets, such as emails, instant messages to build a fuller picture of how people communicate" (which would be even more interesting) it is fair to say that even in an age where we can communicate with people anywhere in the country at the touch of a button there is still very much a sense that people communicate mostly within the area that they live.
Admittedly of all the forms of communication landline calls are mostly likely to reflect any residual regionalisation, but nevertheless the idea of regional divides are still very much there — research like this just shows how those regions have evolved to fit people's everyday needs.
So although this isn't anything new it can then prompt your technological theory musings of the day: how has the technology boom over the last few decades changed the boundaries of our country?
If this study is anything to go by then it has in the sense that the boundaries have changed, but they are still very much there and perhaps surveys like this should be taken into account by people like the Government and BBC when they consider their regionalisation policies, especially when it comes to issues such as rural broadband!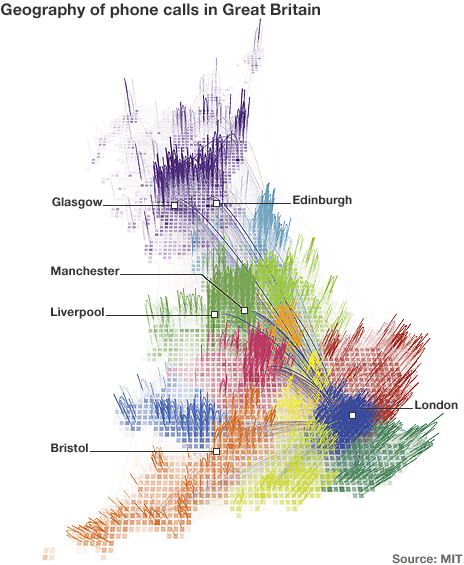 Via – BBC