Here on Zath in recent months and years we have devoted a fair share of our time to following the advancements in television. The innovations have arrived in abundance recently, first with HD and more recently with 3DTV technology. We've even kept you informed with a whole load of Internet TV and such, but it seems up to now we have neglected the emerging quality of the OLED TV.
The Organic Light-Emitting Diode, or OLED as it is more affectionately known, carry many advantages over the current standard of televisions, even the latest LED TV's. Most notably, is the fact that OLED TV's don't require any form of backlight in order to function. Therefore they can maintain fantastic quality colour and deep blacks whilst being almost as slim as you like. On top of that, they are also greatly capable of greater contrast ratios and improved refresh rates, inevitably increasing the overall picture quality above and beyond that which is currently acceptable from LCD or Plasma TV's.

However, what with any new technology, particularly one as potentially prestigious as this, the market is yet to be fully established with the only options when it comes to actually buying an OLED display being limited to a maximum of around 11-15" in size. Although manufacturers have more recently announced plans to extend that into the 20's and even into the 30's in the near future, other major companies have made it perfectly clear they have no interest in exploiting the technology, perhaps because people are now so accustomed to their larger screen TVs, so those manufacturers don't see a worthwhile market for many years to come?
So, whilst the options are limited at present, there are some worthy contenders already on the market and even more in production. So let's take a look at the best offerings so far.
LG OLED TV
With there being so few models currently available, I suppose there is no need for specific naming of perhaps a series of models, so LG have just left it to that, the LG OLED TV. Currently on sale in Korea for around $2600, it is expected to hit the European market any time now as well as the US.
So, in terms of spec it boasts a modest 1366×768 resolution, which is far from overly impressive, but the real qualities are not only in the 100,000:1 contrast ratio, but the massively impressive 1.7mm thickness.
Samsung OLED TV (3D)
Following in the same vein in 2009, Samsung announced their own plans for the OLED TV. However, an improvement over the LG offering is the relatively gigantic 31" option as well as the more modest 14.1".
According to Samsung, both models are ready for production, so at this point we can only assume that they will be hitting the market anytime in the next few years. Announced at CES earlier this year, it is widely predicted that we will have to wait until 2013 for the actual release.
Fortunately, it will be worth the wait as what is to come from Samsung is nothing short of incredible. With both options arriving in 3D, it's simply mouth-watering.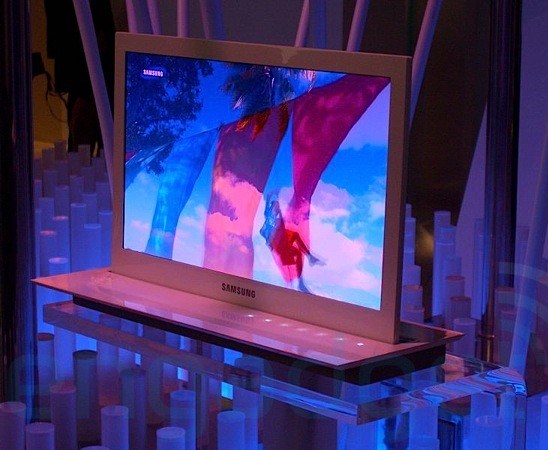 What Does The Future Hold For OLED TV's?
Well so far the pioneers in terms of OLED TV's are definitely LG and Samsung, with the former already laying out a crystal clear roadmap starting last year with the release of the 15" LG OLED TV and that is to be followed year upon year with an increasing size of display, moving from 20" to over 40" over the next couple of years.
It has also become clear that OLED are in their element as 3D displays and this technology has been backed most notably by Samsung, however there are still some issues with the TV's which is perhaps why some companies such as Sony have backed out for the time being. First of which is the fact that the TV's seem to go 'dim' quicker than any other type of TV, however the prototypes are continually improving in this aspect.
There are some other avenues to perhaps exploit with OLED display technology. For example, Samsung have dabbled in flexible OLED's as well which leads the way to all sorts of space age gadgets and gizmo's appearing – in fact they are not the only company as Sony has just recently announced their rollable colour OLED display system.
Also, The OLED TV's can be made transparent which I guess has a fantastic aesthetic appeal if nothing more. Certainly, it would allow the TV's to blend seamlessly into many home entertainment systems.
Even more incredibly, Seiko Epson plan that by 2012 they will have developed technology allowing inkjet printers to physically print up to 37" OLED TV's. Don't ask me the ins and outs of how that is even possible, because in truth I don't know, if I did I would be extremely rich by now, but let's just pray it comes to be.
The omnipresent word though when it comes to OLED TV's is unfortunately, 'perhaps', or 'maybe'. Because for the most part, this technology is embryonic and is yet to fulfil it's potential and is currently far too expensive to flood the mainstream market. For now, just sit back and relax with your Plasma, LCD or even CRT TV, make do with using and OLED screen on your mobile phone such as the Nexus One or HTC Desire and perhaps by 2012/13 we'll be able to get our hands on some real-deal OLED TV's.
What do you think to OLED technology development, is it going slower than you thought it would? Or is it just a matter of time and ever reducing production costs to bring affordable large screen OLED TV displays into our homes?