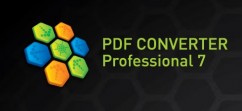 PDF is the mainstream standard for transferring documents between people online, and many programs such as Microsoft Office 2010 now have the ability to export documents and other files to PDF.
If you really wanted to get down and dirty with the format though, one of your only choices would be Adobe's own Acrobat X. With a cost of over £500 direct from Adobe, I think we can agree that it may be out of the price range of most people.
Enter Nuance PDF Converter Professional 7. It's priced at £50 – much more reasonable than Adobe's pricing of Acrobat X – and packs a lot of the same features as its more expensive counterpart. How does it match up? Let's find out.

The idea behind Nuance PDF Converter Professional is that you can create, edit and share PDF documents all from the application. If you don't own a similar program, you may find yourself using separate programs to do all of those things, so it's certainly a great product for those wanting an all-in-one experience.
When I was testing out the program, I focused most of my energy on the 'editing' part of those three aims. After all, creating a PDF is a pretty simple job if you're simply creating it from an existing document out of Microsoft Office.
To test it, I downloaded a job application form that needed to be filled in and sent back to the company. Normally, you would have to print out the form, fill it in, scan it back in to your computer and e-mail it off. Not very productive.
PDF Converter Pro claims to be able to edit PDF forms on the fly, and that's exactly what it did. Without a hitch, I was filling in the PDF form on my computer without having to do anything with it whatsoever beforehand. This could then be sent back to the company via e-mail fully filled in with all the details that they wanted, without any printing involved.
Before you can fill the form in, you'll have to let the program convert it so that you can fill it in, but this took no longer than a minute on the 8 page document that I had. The only complaint I'd have when filling in the form was inputting text, as it wasn't a simple case of click and type on the form, there were certain areas at the beginning of sections that you can highlight to make this easier.
I did notice that it didn't handle forms where there were various questions on one line too well, as it sometimes mistook them for one question and then didn't give you the option to fill in the remainder, so this is something that the developers need to look at.
If you're collaborating with a team of other people on a project, and wish to make notes or edit a PDF that someone else has created, it's just as simple. You can edit and annotate any PDF that you're sent and share it back with them making collaboration as easy as a mince pie on Christmas Day.
One feature that stands out is the use of OCR in converting a PDF file back in to an editable document. I found that it generally worked well, with most documents being converted without any issues. When I began scanning documents in, however, there were a number of problems where it didn't recognise a piece of text correctly and decided to print out a load of unreadable tosh instead. As long as you stick to mainly plain text in a simple font, you'll be fine. Try anything fancy and the results might not be so pretty!
If you've already used PDF Converter Pro in the past, then you'll already be familiar with a lot of its features. There are, however, a couple of new features in PDF Converter Professional 7 that stand out.
When creating a PDF in Pro 7, you can now embed Flash and Microsoft Silverlight content, so that it's not only informative, but looks great too. Admittedly, I'm far from a master in Flash or Silverlight, but it was a pretty awesome feature for me to play around with. In a business environment, it could make a huge difference in the marketing of a product.
As well as being able to create Flash and Silverlight PDFs, you can now import data from other sources such as tables and spreadsheets easier than you could in the previous version, with better formatting. Although it's a minor change from the previous version, it does save you a lot of hassle if you're working in an analytical or data processing position.
There's no doubt that after using Nuance PDF Converter Professional 7, it's a great upgrade from the previous version, and priced perfectly for the market. I'd definitely expect it to take advantage of the high pricing of Adobe's Acrobat X, as businesses look to cut costs wherever they can.
If Nuance can continue to improve on the OCR technology used in PDF Converter Pro 7, then the package will fast become much more popular than Adobe's own software. It's a viable alternative for both firms and individuals, and I would recommend it to anyone looking for a cheaper way to create, edit and share PDFs.
Nuance PDF Converter Professional 7 is available for £50, and runs on Windows XP, Vista or 7.