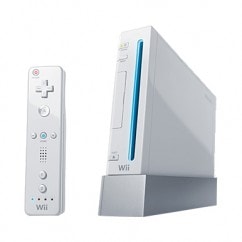 We all knew that this would be announced one day, even if it has taken longer for news of Wii 2 to arrive, well now Nintendo have officially come out with the announcement that the Wii 2 will be unveiled in June at E3 2011 with a release date of late 2012 and there's now news and rumours appearing.
An official name is yet to be released for Wii's successor, but it currently has a working title of Project Cafe and there are rumours of the console being called 'Stream'.

The Wii 2 is of course going to feature HD visuals and will apparently eclipse the power of the PS3 and Xbox 360, which is quite a big statement. The controller will be completely new and may have a 6.2inch HD touchscreen integrated into it with a camera, which to me could be quite cumbersome. Other specs are that it could be powered by a three-core IBM power chip with an ATI R700 GPU for 1080p visuals and 'maybe' the use of 3D visuals, although the latter seems unlikely until glasses free TV's are released.
I was one of the lucky ones to get my Nintendo Wii on release date and thought it was one of the greatest gaming moments of my nerd life when playing motion sensing games. But after a while 'my interest in the Wii dried up' and it was left sat on my shelf collecting dust and decaying with time. So I'm not sure whether to be that excited about the announcement of a 'Wii 2'.
Although it's been rumoured to be more powerful than the PS3 and Xbox 360, I can't see it looking much better. The new rumoured Wii 2 controller sounds like there's too much going on and I'm afraid that we'll end up seeing more of the crappy party and dance game that already stain the shelves, but in HD. I know there are some absolute classics on the Wii, but just not enough to hold my attention.
Games like Zelda and Mario I'm sure will look superb in crisp 1080p visuals, but will it make me want to jump back on the Nintendo bandwagon? I've been contemplating buying another Wii but with this news, I think I'll hold off for a few more months until I've seen some running demos of what the 'Wii 2' can do and what we're going to be seeing in the future.
On the other hand, Nintendo do seem to come up with interesting and innovative new ways of playing games, so I could be blown away by what I see. Playing games on the Nintendo 3DS is quite good but I've not seen a game released yet, that's made me want to buy one. If more AAA titles were released on the Wii 2 I may be tempted to go out and part with my cash for one, but until then I'm reserving my judgement until June at E3 2011.
Are you a fan of Nintendo and love the Wii? Will you be pre-ordered the 'Wii 2' as soon as you can? Or are you like me and had Wii that was collecting dust and a bit unsure about its successor? Whatever your thoughts, scribble them down in the comments below.