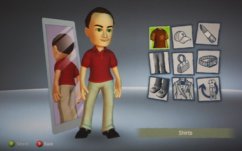 Plenty has been made of the Xbox 360 new user experience (well, by Microsoft anyway) this past month. "Only one week to go!" we were told. "It's like we're giving everyone a new console" they said, so let me say this from the get-go – it's a huge pile of crap!
You realize you're in trouble just about the time when you're picking the style of your Avatar's jeans.
Because I'm not twelve, I couldn't give a flying-f*ck what hair style or T-shirt my "online character" has. Indeed, I don't even want an online character. Unfortunately, while you don't have to customize it, you don't get a choice in this matter. It's an annoying Wii-wannabe of an idea and it's pointless and annoying.

Your "online-self" pops up in certain areas, bobbing around with inexplicable glee, apparently just happy to be in existence. It makes you just want to punch it in its placidly smiling little face.
Do I seem a little angry about all this? Well I am, and let me tell you why. Put a DVD Video on you Xbox and play it, then hit the Xbox button on your remote. And observe the results.
THIS SHOULD BE THE WHOLE INTERFACE!! It's a logical, text-base simplification of the original "blade" design. Everything is obvious and accessible, it's speedy and elegant, and a clear improvement over the full-blown blade experience. Why couldn't this be the whole interface? It's a matter of style over substance and for me, this is a real concern.
The 3D "whooshing" effect of switching between areas is pointless, but at least it's fast. Your desktop wallpaper is rather less visible than before, because it is permanently obscured by a "planet" or something, over which your whooshing windows fly. It's not the end of the world, but again, it's pointless.
The Windows Media Extender element of the Xbox remains unchanged and is as clunky as ever and just as picky as to what files will play on the Xbox 360. Wouldn't it have been better to release an updated version of Media Centre, one that was actually useable? How about a web browser? Instead, we get a bells and whistles interface which adds almost nothing. I should mention that the ability to access other elements of the console whilst in DVD mode is new, but it's a feature that should have been there in the first place.
In all, this is just Microsoft just trying to be Apple (who wrote the book on style over substance) and it just doesn't work. While I applaud the idea of adding value after purchase (it is after all, a free update for your cheap Xbox 360, unlike the distribution model for the iPod Touch and iPhone), I can't help but see this as a missed opportunity. Also, if you use Xbox Live in any capacity, you have no choice but to upgrade. This "you will use what we tell you to" attitude is typical of Microsoft and I don't like it one bit.
It's all a massive disappointment.
Review by The Average Windows Nerd.