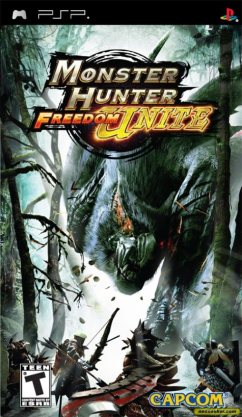 I've never played the Monster Hunter games before, as they've never really appealed to me when I've read about what you have to do in the games. But after playing Monster Hunter Freedom Unite, I was pleasantly surprised by how much I've got hooked on it.
When I was explaining the game to a fellow computer nerd, they said it sounded like a grown-ups' version of Pokemon. I've never played Pokemon so I'll take her word for it.
The aim of the game is to train yourself up to become a Monster Hunter and to go out on quests killing or capturing monsters to earn yourself money and a reputation for the best Monster Hunter around.

When you start the game, you have the option of which level of hardness you want to start at. Seeing as though I've never played this before, I started from the very beginning. But if you're already a hardened Monster Hunter, you can start a bit further on and jump right in.
This isn't a brand new game as we mentioned in our Monster Hunter Freedom Unite preview, but an updated version of Monster Hunter 2, with a couple of extra areas and monsters. If you've played the 2nd game, you can even use your save files with this one, which I thought could come in handy for those of you who have already played it.
After choosing your difficulty level, you can choose to customise your character with a few choice selections. There's not a lot of choices in there, but it's something to play around with. There are even different grunting noises your character can make.
Once you start, you can do small training missions so you can get used to the controls, which at first, seem very hectic and a lot to take in (can't expect much else from a PSP game with a 39-page instruction manual). There are 7 basic training missions which teach you everything you need to know to get started, and once I'd completed them, I found the controls to be quite effective. There's also Solo Training which you can do, but you have to have done the basic training to unlock this if you start from the very beginning.
By doing these training missions, you can earn a bit of money so you can buy items or armour. You'll need this money as you have to pay to do quests, but you get a lot more money back after completing the quests. There are even 11 weapon training quests to do so you can get used to all the weapons and see which you prefer. The double swords being my favourite!
After that, your hunting begins. The quests aren't all hunting ones, as there others such as gathering one's as well where you have to collect items like herbs, or eggs to take back to the village, so it gives you a nice bit of variation.
The controls are fine once you get used to them, and I like how fluid the animations are throughout the game that does help when fighting. The only downside I'd say is the camera angles as these can get quite irritating when you're trying to kill 3 or 4 monsters at once. There's no locking system but would have been nice to be able to choose whether to turn this on or not. But on the other hand, it could have been too annoying and not giving you the freedom that the fighting does seem to give you.
You only need to tap 'L' to get the camera behind you again, but a few times, I've found myself swinging my swords at nothing when this happens as you can't see where your enemy is.
The graphics for a handheld, I thought were very impressive and can see this being one of the main reasons why the loading times are quite long at times. But the loading times don't have to be a massive issue as you can install part of the game onto your memory stick as long as you have a spare maximum of 580MB (depending on the type of card you use). This will lower loading times as the game loads from both your memory card and the UMD.
There is the option to play the game wirelessly, but only ad hoc. So your mates are going to have to have a PSP and the game to play along. It's a nice touch, as you can all set off on quests together which I would have thought would make things a lot easier. It would have been great if you could go online and play with people from all around the world. Maybe if they were to release Monster Hunter 3 on the PS3, which might happen, they will add the online function on and this would become a massive hit.
Overall, I was very impressed with Monster Hunter Freedom Unite and for the price of £19.99 think it's an absolute bargain – especially as there is supposed to be over 500 hours of gameplay which is immense. Or you can also try getting it for free by entering our Monster Hunter Freedom Unite competition!
I can see why this game Monster Hunter has taken Japan by storm to the point where they even have Monster Hunter gaming centres!
4 out of 5
Danny 'Ender' Martin has been part of the Zath team from pretty much the very beginning since he met Zath himself at Leeds Met University whilst studying Business IT. He's an avid gamer and a big film buff. Danny graduated from the University of Bradford with a degree in Computer Animation and SFX and now currently works at one of the biggest UK games developers, which will hopefully see some of his ideas hit the gaming world.