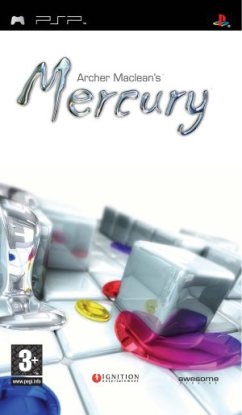 You may remember this game from a few years ago when the PSP was first released back in 2005. Well, it's now available for your enjoyment via the PlayStation Network for the bargain price of £4.79, and with only a file size of 258MB.
You can only play this on your Sony PSP, so don't try to buy it expecting to play it on your PS3 – I found it much better to download via my PS3, install it and then just copy it straight over to my PSP.
Mercury never interested me when the first game came out, but I wanted something different to play and thought it could be fun. I was right, this is my kind of puzzle game, and I can spend a good hour or two going through the puzzles at a time.

The aim of the game is to get a ball or balls of mercury to a post at the end whilst getting past certain challenges along the way.
There are 6 stages in all and each of them having 12 puzzles to do, which shouldn't take some people that long to go through, but others might find certain puzzles to be quite taxing.
The puzzles aren't all the same as there are 5 different types throughout the stages which are Race, Percentage, Task, Combo and Boss.
The Race puzzles are against the clock, so it's all about speed. For Percentage, you're given a….percentage…..at the beginning of the level as to how much mercury you need to save to complete the puzzle. Task is more for switches and obstacles to get around and Combo is a mixture of each puzzle type and these can get quite tricky. The Boss is more or less the same as Combo, but it's a bigger puzzle and you've got more obstacles dotted around for you to get past.
The first stage of Mercury is a tutorial stage to get you used to the different styles of puzzles and doesn't take to long to get through, but the further you progress with the game, the trickier things get, but I did find it to be good fun and refused to let it beat me.
The controls are very easy to get used to as you just need to move the analogue stick to move your mercury around the puzzles. You can pan the camera around by pressing square or circle which comes in very handy and you can zoom in or out using the shoulder buttons.
I like how the graphics can be quite bright and vibrant and the added backgrounds make it more pleasing to the eye. The effects they've used on the mercury are nicely handled and it has a very fluid motion to the handling. The soundtrack isn't too repetitive which to me is a good thing, because there's nothing worse than being stuck on a taxing puzzle with an annoying tune ringing in your ears.
Overall, I was quite impressed with Mercury and found it to be a fun little puzzle game well worthy is its price tag. So if you've got £4.79 lying around, then I would recommend getting this.
3 out of 5
Danny 'Ender' Martin has been part of the Zath team from pretty much the very beginning since he met Zath himself at Leeds Met University whilst studying Business IT. He's an avid gamer and a big film buff. Danny graduated from the University of Bradford with a degree in Computer Animation and SFX and now currently works at one of the biggest UK games developers, which will hopefully see some of his ideas hit the gaming world.