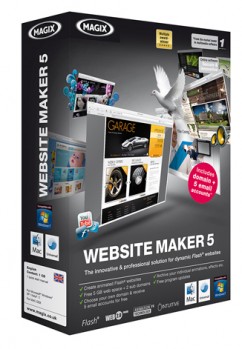 This could quite possibly become one of the most perspective-driven reviews I will ever write, and for that reason it's also one of the most difficult. But stop here if you're looking for web design software that will allow great flexibility, offer tools to drive traffic to your site or indeed anything that a typically commercial or promotional website might want. Magix Website Maker is not for you.
However, if you're someone merely wanting to make an imprint on the inexhaustible platform of resources that is the Internet, and are fearful of over complex web design software and methods, then you might want to give this review a read. It might well be what you've been craving.
You see, the big 'problem' with this software is that it exists entirely around Adobe Flash. Which, as well publicised, won't work on your iPad (without jailbreaking) and many other tablets, or if you don't have it installed on your PC. Now there are a number of reasons why Flash is a no go if you want a commercial website, or something that will attract large quantities of traffic for whatever reason.

The first is that it doesn't play ball with search engines. At all. Think of it as one great image, or video, and the words on the page are not their own entities, they are merely part of that image. You can't select them, copy them, even right click on them, and the same is true of the images. Secondly, it doesn't allow for any sort of RSS implementation of forums, ruling out a great chunk of the 'community' aspect of a website altogether.
But is that a problem? As previously warned, it does depend entirely on your perspective. I'm not a fan of Flash, but all bias aside, this software offers a completely minimalist method of getting content on the web. And if you're a very small, not particularly scalable, business, or just a personal user wanting to stash some basic content somewhere public to link your friends to, then Magix is pretty much the simplest solution, besides blogging platforms such as WordPress, Blogger and Posterous.
So Magix allows you to design and publish your website, as well as filling it up with as much content as you can muster. All for the bargain price of just £5. For that £5, you will receive a boxed, CD version of the software (an outdated medium for software distribution these days apparently), however more interestingly, there isn't actually much to install. Instead, the entire application exists in a web interface that you simply need to activate to use. The installer on the disc simply places a digital copy of the manual onto your hard drive and a link to the web interface, where you will input your activation code and register your details for future spamming marketing purposes.
What this means in a positive sense is that you can use it on any platform comfortably, the software will install on either OS X or Windows, and you can access your account and the tools on any Flash enabled computer after that and continue your work.
The Interface
What this also means, is that the workspace will look out of place on every platform. It doesn't look consistent with any controls in either Windows, OS X, or Linux and whilst that isn't a huge problem, it takes some getting used to.
Every element that you might want in your website, such as text and images, is listed at the bottom of the screen and you need to choose your font before you insert the text box, for example, which is a little awkward but manageable.
Down the left hand side you have a pair of panes which list the pages in your site and the elements within those pages. Once you're familiar with the layout, it's simple enough. To make it even simpler, though, there are over 150 templates to choose from at startup, which will most likely give you the most professional look you'll get by using the software, but if you wish to dabble from scratch yourself, then you can start a blank template and get going with designing your layout yourself via drag & drop. That's about as complex as it gets.
The main menu of the web app is called the control panel, and from here is where you will manager your website. a list of options is available taking you to the website maker, or indeed your hosting and domain options which you'll need to input before hitting the 'publish' button from within the maker to get your site online.
Summary
There isn't really a lot to say to sum this application up. A simple program requires a simple conclusion, so how about this: It doesn't get easier, cheaper or faster than this to get a professional looking site online, but it gets a whole lot better if you need and/or want it to.