I was recently asked about live football scores and what's the best way of keeping track of them now that the new football season is well under way. There are various websites that will track the live football scores for you, but they vary widely in terms of usability and having slight delays in terms of updating.
The best way that I've found so far is to use the Live Score Centre on the Sky Sports website. It's a service which has been developed over the past few years, each year introducing improvements and making it better to use.

As well as the traditional goal and foul ticker system at the bottom of the screen, here's some of the other features included:
Live football scores, updated very quickly as things actually happen.
Details of starting line-ups, player bookings and substitutions.
A live premiership table – which means you see your team move up and/or down (but hopefully up!) the table as all the games progress!
Match stats – gives details of shots on goals, fouls, possession and even the pass success rate!
Add fixtures to your "My Home" page and it will keep track of all the games you're interested in – all on the one page, no matter what competitions they are involved in.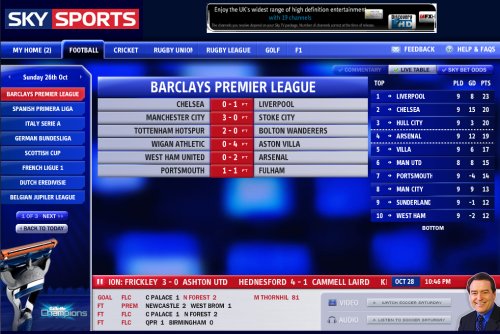 To give you an idea of how comprehensive this live football score system is, here's just a few of the leagues and competitions that it tracks (plus there's lots more on top of this too):
Barclays Premier League
Coca-Cola Championship
Coca-Cola League One
Coca-Cola League Two
Co-Op insurance Cup
Scottish Premier League
Scottish First Division
Scottish Second Division
Scottish Cup
Welsh Premier League
Spanish Primera Liga
Italy Serie A
Italy Serie B
German Bundesliga
German 2. Bundesliga
French Lique 1
French Lique 2
Dutch Eredivisie
Irish Premiership
Eircom Division One
Portuguese Liga
Swedish Allsvenskan
Blue Square North
Blue Square South
Copa Del Rey
Ryman Premier Division
Unibond Premier Division
Finally, once your live football scores are over, you can then use Sky's Live Score Centre to track the live sports results of other sports including Formula 1, rugby, cricket and golf.
Have you used this service to track your live football scores before? What do you think to it? Have you found one that's better?