Available on: XBLA (version tested), PSN and PC (Steam)
When I first read that Square Enix had bought Eidos and that they were doing something different with the new download-only Tomb Raider game, I started to cringe. Even when I'd seen a few screenshots and videos of the gameplay, I wasn't sold on the idea of the new changes to Lara Croft's Tomb Raider adventures.
First of all, they dropped "Tomb Raider" out of the title, secondly the camera angles were all different and not the 3rd person game we're all so used to, and this time she's got a companion to help her through her latest conundrum. So far, it wasn't looking good, but I thought I'd try the game anyway and it turns out, I was pleasantly surprised by just how wrong I was. This game is superb.
If you're worried that Tomb Raider games are going to be like this from not on, fear not. There is a Tomb Raider game on it's way and done in the old way. Lara Croft and the Guardian of Light was a new way of bringing the ever popular heroine to our consoles and long my then continue to produce games like this along side the main titles.

The story sees Lara once again thrown into the thick of it. Some idiots decide it's a good idea to remove an artefact called the Mirror of Smoke which releases an evil spirit called Xolotl. A 2000 year old Mayan warrior named Totec is also released in order to help Lara put Xolotl back to where he belongs.
Gameplay
As I've mentioned above, the camera isn't sat behind Lara this time like in the other 3rd person Tomb Raider games. This time they use an isometric camera like what was used in Alien Breed, which works really well for this type of game and it makes it really easy to navigate around the levels, as well as making it great for fighting all the monsters that appear before you.
The controls are simply but very effective. The left analog stick controls Lara's movements with the right being used to aim your weapons in the direction you need. Pressing RT will fire weapons of which you have quite a selection, depending on how many secrets you unlock. There are weapon upgrades dotted around the game during the levels so you always have the right one to get you through whatever's in front of you. Including Uzi's, machine guns, rocket launchers, chainguns including a few others. It's good to see they've added an evade button which helps you get out of tight situations to avoid trouble. One of my favourite moves being to roll through the middle of two enemies, dropping a grenade mid roll and then exploding it and killing them all in one swift motion.
But can you only select 4 weapons at once, each being assigned to a direction on your d-pad or by pressing and holding the LT button and then pressing the appropriate button on screen. You have unlimited ammo with your trusty pistols and a spear which is giving to you by your Mayan warrior companion Totec at the start of the game. You've also got an unlimited amount of grenades which are very useful and will be needed for everything throughout the game.
There's plenty of other stuff to do throughout the 14 levels that the game has to offer. Each level has 10 red skulls to collect as well as other tasks which can earn up upgrades and other artefacts. So far example, 'collect x amount of points', 'complete the level under 9 minutes' etc. To complete some of the levels in the time it says in the challenge will take you a few attempts as you'll have to know it like the back of your hand. I like that they've added extras like this into it as it gives the game something else that will have to trying again and again.
Most of the levels took me well over 20 minutes to complete with only a few of the boss levels taking around 5 minutes. Throughout the main levels there are some tombs hidden in the dark corners of the map which contain an artefact with each tomb providing a small puzzle to overcome before you're rewarded. There's no shortage of things to do and I'd be impressed if you completed everything first time through.
This time around, you have to option of co-op multiplayer so that you can have Totec helping you along the way. Both Lara and Totec have skills unique to them, so you need to help each other over certain obstacles you come across to progress through the game. My only problem with multiplayer was that you can't go online and play along with anyone through the missions, like a drop in drop out system. But the reason for this could be to do with that fact that single and multiplayer versions of the game differ slightly from each other, so I suppose they can be forgiven for that one.
You'll need someone next to you with a spare controller for the multiplayer, which for this day and age, is quite poor even if it is a download only game on release. However, a patch is meant to be released sometime in the near future to allow this for online multiplayer.
Graphics and Sound
I was impressed with just how nice Lara Croft and the Guardian of Light looked, from lush valleys to dark lave spewing tombs, Crystal Dynamics have really done a grand job with making this game look so good. It's nice to see that things like small foliage moving as Lara runs through, and water being splashed under her feet. I know they're only small things and has no bearing on the story whatsoever, but it's the attention to detail that I like as you know they've paid attention to all the smaller things. There are some nice cutscenes throughout the game apart from the beginning and end sequences which are done in a comic strip way, which is a bit of a let down.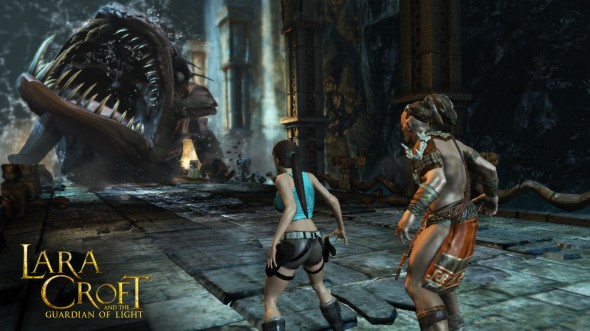 The voice acting is really cheesy in parts but doesn't ruin the experience. The soundtrack isn't anything to write home about and was a bit to upbeat for my liking as I prefer darker, more moody music for games like this. It's nice to see that they've added some old skool sounds in though, like when you pick up treasure which is strewn all over the place, you get the sound of the old "bling" noise when Lara found a secret in previous games.
Summary
Overall I was very impressed with Lara Croft and the Guardian of Light and was made to eat my words from my original thoughts of the game. With great gameplay, and the added bonus of co-op not to mention all the extras within the levels, this should keep you occupied for a while. You might complete the game fairly quickly, but you'll be playing through it more than once, if you're like me and like to complete 100% of the game.
Lara Croft and the Guardian of Light is available now on the Xbox 360 through XBLA and will cost you 1200 Microsoft Points, with the PS3 and PC versions being released at the end of September.
4 out of 5