Sports games seem to be the generic release game for motion controllers. The Nintendo Wii had Wii Sports, Sony had Sports Champions for the Playstation Move, and now Microsoft have Kinect Sports for Xbox Kinect.
Because of that very fact, I wasn't really expecting a great deal from what Kinect Sports could deliver and although it's a fun game, it still an average one at best. A few years ago, I would have found a game like this to be well worth the money and it would rarely leave my console as I'd always be playing it. But because of the way games have progressed over the years I need more of a story.
Maybe I'm just becoming a moaning old bugger in my late twenties, or just lazy. This is definitely a party game which is where the majority of the fun is. But as you may have already read in my review of Xbox Kinect, my living room doesn't have the space to allow 2 or more players unless I do some major shifting of furniture.

Gameplay
So, apart from the obvious, what does Kinect Sports entail? Well as with Kinect Adventures, when you start the game, Kinect will see where your best position is and then it's onto selecting which avatar to use, should it be your own or one of the preset ones for the game.
From the main menu there are three options to choose from which are Party Play, Main Event and Mini Games.
When you start party play you can select a mascot to use instead of your avatar which makes things look quite funny, although there are times when your mascot can block certain parts of the screen making some games a tiny bit trickier to judge, like the long jump. Apart from the small issues like that, it's quite fun to play over 6 rounds but you will need to be in the "Best" Kinect position (with lots of room space) to play with more than one player at a time.
In Main Event, you have the choice of 6 events which include Football, Bowling, Track & Field, Boxing, Beach Vollyeball and Table Tennis. In each of the sports you can either play against the AI, or pit your wits against one of your mates. Playing football was great fun especially when watching the recorded videos of myself celebrating a goal with a good old chicken dance after each game.
At first I found Bowling to be a real challenge compared to Wii Sports, but once you've found the right way to bowl, you'll be laughing. Boxing is good fun but I found myself getting really irritated with this one quite quickly. It's not that I was losing all the time, honest, but it just felt clumsy. I found Table Tennis to be the easiest of the games and not really much of a challenge and the same can be said about Beach Volleyball. I founder it harder to miss the ball then to actually hit it with both these sports. Although watch the roof when playing volleyball! I did crack my hands on the roof a few times when getting over eager with some shots.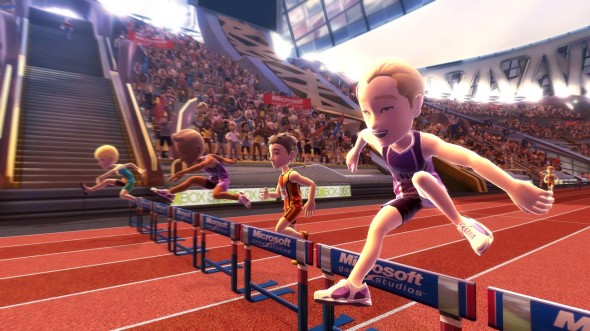 Track and Field was good and the most tiring as for most of the games you have to run on the spot, and if your playing the Champion level you have to give it some hammer. The games are Sprint, Hurdles, Long Jump, Discus and Javelin which are fun, but like Bowling, takes a while to perfect them and get some Olympic scores.
And last but not least, the Mini Games. This is where I found the game to be most enjoyable as there were a few games which do make you feel quite panicked as the time ticks away and it's amazing how well Kinect can track rapid movements. Super Save was my favourite mini game and you'd have to be an Octopus to get really far with that one. But I looked good in the recording after I'd finished the mini game. And by good, I mean stupid, and by stupid I mean "I didn't bring him to the party".
Watching what Kinect records after each sport you play really is a great feature as I can guarantee you'll find yourself trying to look cool when playing the game because you're being watched! It's like not trying to lick the sugar off your lips when eating donuts!
Graphics & Sound
As with Kinect Adventures, visually Kinect Sports looks superb from it's cartoon style artwork as it uses your avatars to project your image in game. The soundtrack is pretty cool to with some well know tracks playing after scoring a goal, getting a strike, or anything else that you do well. This is a nice addition as it does give the game a little something extra and gives you a bit of a buzz.
Like when you get 3 strikes in a row the crowd gets louder and make the atmosphere seem tons better, even if it is artificial. I think this works so well because you're up and really playing the game and not just sat with a controller in your hands.
Overall
I enjoyed Kinect Sports for what it was. A fun and enjoyable party game that, with more players will surely be a blast. I found myself playing this more than Kinect Adventures whilst in single player as I got more enjoyment out of it.
You can't really expect much more from this, but it does make better use of Xbox Kinect than what Adventures does in my opinion. If you're new to Kinect or you're just wanting a fun game to play with a few of your mates then I would definitely recommend buying Kinect Sports. However if you're going to be playing mainly for single player, you might find yourself tiring of the game sooner than you think.
3.5 out of 5