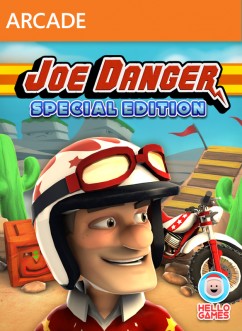 Finally, I hear some of you say. It was only 18 months ago that Joe Danger was released on the PSN so it's good to see its release on Xbox LIVE. I have to be honest and say I'd only played a little bit of the game on the PSN and enjoyed what I saw. So I was definitely interested in getting my hands on it again when I heard the Special Edition was being released on Xbox LIVE.

Gameplay
For those of you who haven't heard of Joe Danger before, the game will see you take control of the daredevil over different course to perform crazy stunts, rack up high scores, collect a ton of stuff along the way, and not to mention is great fun. The idea of the game is incredibly simple which is why it's probably so much fun to play, but just because it's simple, doesn't mean that it's easy. You'll be re-running all the courses to collect what you've missed on your first run, and trying to beat your scores and times to move yourself further up the leaderboards.
Because this is the Special Edition of Joe Danger, there are of course some new additions to the game. There's around 15 hours of extra gameplay, 10 new playable characters, faster loading times and the all new Pro Medals and The Lab.
The Lab is the biggest edition to the Joe Danger: Special Edition (a video of which you can see below) as you're able to hone your skills in short, challenging courses that will help you to develop your crazy tricks. So if you find yourself to be stuck in one of the levels in the main game, jump into the lab and practice until your eyes bleed to become a master of flips and tricks. The Pro Medals can be collected by completing all of the challenges on some of the courses in the main game. Should you be good enough to unlock one of the Pro Medals, you will be rewarded with some freebies which include new characters, avatar items, wallpapers, gamerpics, or Easter Eggs.
Along with all of the extra content, you'll be able to play through 11 different career stages and play along with a friend in split screen Co-op Multiplayer. You can also customise your rider if you don't want to generic Joe Danger, and hopefully you've all tried the limited Santa DLC that was available over Christmas.
The controls are incredibly easy to get to grips with as all you'll need to do is hold to the RT button and you're away. LB and RB are you're trick buttons and pushing the left analog stick forwards or backwards will see Joe performing front or back flips. But try not to faceplant him into the floor, as he bruises like a peach. Using the Boost by pressing A is a critical weapon in your arsenal as you'll be able to get better air time when using it, which will allow you more time to perform tricks and rack up your score count.
Visuals & Sound
I'm a big fan of cartoon style games as I've mentioned a few times before, and the Joe Dangers visuals are superb. It's colourful and looks nicely polished which helps add to the games fun vibe. The soundtrack fits in nicely with the game and you can't help but feel happy whilst playing. Even when you've made Joe Danger crash countless times from your reckless riding, and you're reaching boiling point, you can't help but smile.
Overall
I've found Joe Danger to be fantastic fun with great re-playability. I've barely been able to put it down as I'm always wanting to better my scores, and now that the Pro medals have been added, for the perfectionist, it will keep you entertained for many an hour. The amount of content that was available originally would have kept most gamers happy for a good while, but now with the amount of stuff that is available in the special edition of Joe Danger, it's well worth the value of 1200 microsoft points.
4 out of 5
Danny 'Ender' Martin has been part of the Zath team from pretty much the very beginning since he met Zath himself at Leeds Met University whilst studying Business IT. He's an avid gamer and a big film buff. Danny graduated from the University of Bradford with a degree in Computer Animation and SFX and now currently works at one of the biggest UK games developers, which will hopefully see some of his ideas hit the gaming world.