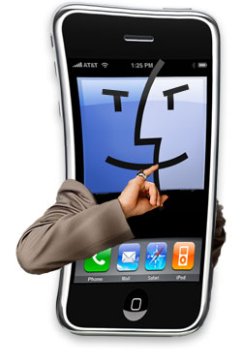 I know what you're thinking.
Here's the Windows Nerd, back for another round of Apple bashing. Well let me get a few things straight right now before we begin. I own an iPhone and more than that, I think it pretty excellent. There is absolutely nothing out there that even comes close to the intuitive user interface, the plethora of fantastic apps and the sheer usability of what is quite simply, the best phone ever made. Am I going to use an awkward, clunky Windows Mobile interface, or am I going to use an iPhone? Hmm, tough call isn't it?

Unfortunately, the company who makes this wonderful device has (apparently) no soul. I might really like some of their products, but it's no secret that I hate Apple and by the end of this rant, so should you. The 3.0 upgrade comes with a shit-load of baggage. I'm going to tell you exactly what that is, what Apple's argument is for doing it, and what I think about the whole, stinking mess.
Buckle up, buttercup, because we're goin' in…
Apple's Advocate
Most people get their iPhone for what would appear to be nothing. They pay an admittedly hefty monthly fee for the service, which pays for an amount of voice calls, texts, internet usage and yes, the cost of the device. It would be unfair to expect Apple to just give you this expensive and sophisticated universal media device for a paltry £35 per month ( or whatever the hell it is), and don't forget, although the PAYG iPhone is still the best part of £400, you are getting a year's internet access for that. You could argue that with the PAYG version, you are actually paying the full cost of the device, but you're getting a year's free internet access too. That's not really a bad deal and it's certainly an attractive offer which I actually do find pretty tempting.
Apple are also giving you the 3.0 update for free. They'll charge you for it if you are an iPod Touch user, but because you have an iPhone, it's free. I think this is recognition of the continuing financial commitment you're making as an iPhone user and to Apple and O2's credit, that's a pretty straight play. The price of the iPhone PAYG is very high, but it's not a million miles away from what you would pay for most sophisticated smart phones without a contract and I think it's important to acknowledge that. I also think the additional price which is still over and above most smartphones is somewhat justified because, after all, it's an iPhone and therefore, it does ever so much more.
So now you've got your free iPhone 3.0 software update, your hefty monthly bill, or your even heftier one-off payment, you have a really nifty bit of kit, right?
No you don't. It may be weeks, or months (but not years) before Apple (not O2) decide to turn it off. It will happen.
In part two, I'll tell you why and how. I'll even tell you when. The clock is ticking…
The Average Windows Nerd