Having already taken a look at iOS 5 for iPhone, you may be wondering why we're taking a second look at Apple's latest mobile operating system update for the iPad. Although it is indeed the same operating system running on both devices, there are subtle differences between the iPad and iPhone versions of the software, and some features are more prominent on the big(ger) screen too. As was first shown at Apple's recent iOS event.
With that said, if you're an iPad owner wanting to upgrade to iOS 5 then take a look at what the new software has in store for you after the jump!
Note: For our full review of iOS for the iPhone, check out our original post. This review concentrates mainly on Newsstand, iMessage and notifications.
Newsstand
For me, Newsstand has always been a feature that will benefit iPad owners far more than it will users of the iPhone. The larger screen of the iPad lends itself to newspapers and magazines, and this is reflected through the sheer amount of content available to consume on the device. From large newspaper applications such as The Times and The Sunday Times to magazines such as Wired, there are few publications that I want, yet don't have available to me digitally using the iPad.
This is why, for me, Newsstand is such an integral part of iOS 5 on the iPad. A lot of people, myself included, use the iPad to read written content over any other method, so to have all of your magazine subscriptions automatically updated when a new issue comes out is very cool. Although The Times application doesn't have Newsstand functionality yet, when it does, you will have a new issue waiting for you automatically when you wake up in the morning without you even having to tap a single button. That kind of convenience is just too good to pass up on.
iMessage
For a lot of people, iMessage will be a more welcome addition to iPad owners than those using an iPhone. The iPhone has always had the ability to send messages, and iMessage is just an extension of this, but for the iPad, SMS-like messages to phone owners are a whole new thing. Sure, you have IM apps such as IM+, but not everyone will use the same protocols, so it's always nice to have an additional option.
The downside to iMessage, of course, is that you can only speak to people using an iPhone and iOS 5. That's cutting your potential audience down by quite a lot, so you'll still need to keep that IM app handy for Facebook conversations.
Notifications
The revamped notifications system on the iPad is definitely worth a mention here. Essentially, it's exactly the same system as the iPhone has, but instead of covering the entire screen in notifications when you drag down from the top of the screen, a windowed notifications panel will drop down. Also noticeable is the lack of widgets, which are present on the iPhone. You won't find any widgets on the iPad, as there is no weather or stocks app built in. Unfortunately, it will remain this way until Apple opens up widgets to third party apps.
If you're used to the iPhone's full-screen notifications then this might look a little strange at first, and I'm still not 100% sure whether I like it or not, but however it looks, there's no denying that revamped notifications in iOS 5 blow everything else out of the water without a shadow of a doubt.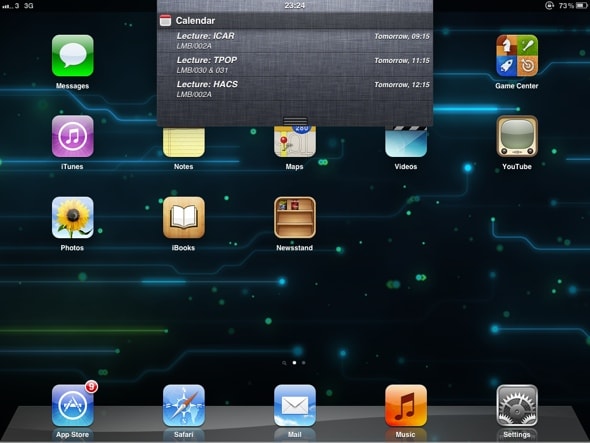 Hoping to study Computer Science at University in the near future, you'll seldom see John without a computer in touching distance! His interests include building computers, reading all sorts of literature and of course writing for Zath to keep you updated on all the latest in the world of tech! You can follow John on Twitter as @british_geek.