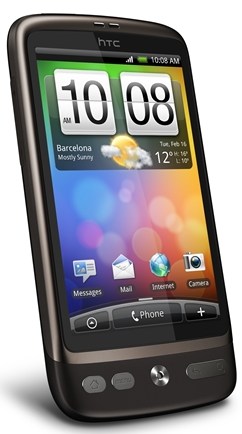 Ah, the HTC Desire… At first glance, many say that the Desire is HTC's way of pairing their Sense UI with the Nexus One, and in many ways, they'd be right, but despite its strong resemblance to Google's 'superphone', it also carries many differences. Many people have been holding out for the Desire here in the UK, as the Vodafone Nexus One is only now just starting to appear, so it's bound to be a winner with consumers.
Hardware Features
Ok, so we all know about the Google Nexus One, and you'll find many traits of it in the Desire. HTC has kept the 480×800 AMOLED screen, offering the best display I've come across on a mobile device despite its limited usability in direct sunlight. It was only when I compared identical pictures on the HTC Desire and the Apple iPhone 3GS, that you could tell just how bright and colourful the AMOLED screen could present them in comparison to the dull, washed out colours on the iPhone screen. Also, in addition to this, since the Desire's screen has a higher resolution than the iPhone, everything looks much sharper and text is so much better to read, in fact, if you then go back to the iPhone display, it looks positively blurry and not that pleasant to use at all.

In testing out this new HTC handset, I took the sim card out of my iPhone 3GS and used it in the HTC Desire and once the APN settings for the O2 network were updated in the appropriate section (if anyone wants to know where to make that change, it can be found by following this menu path….Settings -> Wireless & Networks -> Mobile Networks -> Access Point Names), I had the mobile internet working. The only other thing I can say about using the same mobile network across these different devices is that my signal reception using the HTC Desire is much improved and the signal no longer completely drops out to the point where you can't use the mobile network at all – unlike my use of both the iPhone 3G and 3GS where these devices would randomly drop all network signal and show the infamous "No Service" notification at the top left of the screen.
You'll also notice the 5MP camera with a flash on the back of the device. A noticeable difference from the N1, however, is the replacement of the trackball with an optical trackpad on the front of the phone. This may take some getting used to if you've used a trackball as you won't get as much tactile feedback when scrolling menus or using it to play games.
Design wise, it looks great and is more subtle than the trackball found on the Nexus One. HTC has also opted for a row of physical buttons at either side of the trackpad in favour of touch sensitive ones. This is a move I was glad to see, as I sometimes find myself accidentally activating the touch-sensitive buttons on the N1, especially when using the keyboard for typing.
As well as the obvious differences in hardware, some more subtle changes have been undergone, including the exclusion of a second microphone on the back of the phone which means no noise cancellation! This isn't a big deal – you'll seldom find a phone sporting such a feature, and it reduced the cost of the device too, making the phone more accessible to more people. You'll also notice that there are no dock connection pins on the bottom of the phone either.
So the mobile phone looks great, and HTC has done a great job in the design process, but what's the driving force of this thing? You'll be glad to know that Qualcomm's 1GHz Snapdragon CPU has made its way to the heart of the Desire, and coupled with 576MB RAM you'll see a definite performance boost over other HTC phones.
Also, since this isn't an Apple product…you can also open up the back of the handset and replace the battery as needed, which is very useful given how modern smartphones only tend to last a day with moderate use, so the ability to buy a spare HTC Desire battery and swap them out as needed means you can be sure you'll have enough charge no matter how long a day you have away from a power socket to be able to charge up.
Software Features
Arguably the most important factor of the Desire is Sense UI, HTC's custom interface for Android. Already loved in the Android community, Sense UI comes with some neat new tricks for 2010 which not only look great but improve the functionality of the Desire too.
One of these improvements is 'Leap', a very Expose-like feature which allows you to pinch inwards on any home screen to see all the home screens and their contents. It can be a little clumsy at first until you get used to the multi-touch movements on the screen, but once you've got the hang of it you'll never have to scroll through all your home screens to find what you're looking for again!
The other new addition to Sense is the Friend Stream widget, which gathers all your social networking information in to one handy place for you to access, however in using this I found this to be an interesting feature and no doubt works well for many people's needs, but I've ultimately gone back to using specific 'Facebook For Android' and Twitter (Twidroid Pro) apps simply because they have more features and work better for me as someone who uses them a lot.
One of the great things about the Android mobile platform is its Android Market for apps, the only real rival to Apple's App Store, it's much more open, doesn't force developers to just through so many hoops to get their app out there to users and is growing quickly with many great apps being added all the time – I only see this getting better as more people get one of the many Android handset options on that will be on the market in 2010. Also, buying apps are made very simple if like me, you've got a Google Checkout account set up, this makes paying money for paid-apps, very simple, just like the App Store.
Another addition well worth having is a replacement for Google's diabolically poor music player. HTC's attempt at fixing this results in a neat music player that allows you to browse and listen to your music collection without any frustrations – just sit back and relax!
The one software feature that I particularly liked was the HTC Sync software which made transferring my Windows contacts to my HTC Desire a very simple process. Also, as part of the HTC Sense / HTC Sync software, whenever you connect the handset via USB to a computer, it offers different methods of connecting;
Charge Only – simply charge your handset battery via USB.
HTC Sync – synchronises your contacts and calendar with your computer.
Disk Drive – allows you to use your handset as a data storage device and transfer files.
Internet Sharing – this option allows you to use your HTC Desire to tether it to your computer/laptop and share the mobile internet connection, being able to do that so easily is a real bonus, it's one of the main reasons I wanted an Android phone over an iPhone and means I didn't even need to look at our How To Tether An Android Phone guide and download a separate app.
Finally, if you use your mobile phone to browse the web on the go, you'll love this last one: Flash 10.1 (don't tell Steve, it's our secret!), allowing you to have as close to the 'full web experience' as you can on a smartphone. This means that most websites work just like they would on the web, for instance, it seemed like such a novelty being able to watch a video embedded into a BBC news article, but it definitely added more to the experience.
Summary
All things considered, the HTC Desire will be a big competitor for the iPhone this year, it's solid, well-built handset that feels good in your hand, has a great set of specifications to rival the iPhone and even does some things that the iPhone doesn't do such as the Google Maps Satellite Navigation app and the aforementioned internet sharing.
Although I'm sure Apple has something up their sleeves for the iPhone 4G at WWDC in a few months. If you're looking for a new smartphone, the HTC Desire just muscled its way into your wish list, providing arguably the best Android experience yet on almost every major carrier in the UK, the Android mobile platform has come a long way in a relatively short time since the T-Mobile G1 was first released.
It will be interesting to see just how widespread and popular this handset becomes as it's not only available to buy HTC Desire sim-free (and then put your choice of free PAYG sim cards or existing contract sim card into it), but you can also get it on a contract deal on just about every UK mobile network.
Hoping to study Computer Science at University in the near future, you'll seldom see John without a computer in touching distance! His interests include building computers, reading all sorts of literature and of course writing for Zath to keep you updated on all the latest in the world of tech! You can follow John on Twitter as @british_geek.