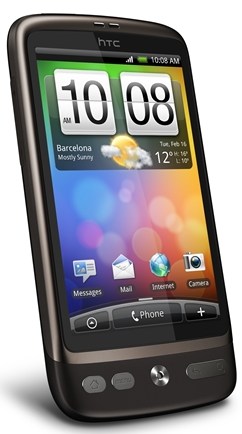 The HTC Desire has proved to be one of HTC's most popular Android phones here in the UK, with a lot of people choosing to purchase them in favour of an iPhone, or other alternative.
The only problem with the Desire at the moment is that it's still running Android 2.1 (Eclair), as opposed to Android 2.2 (Froyo), although HTC have said that Desire, Legend and Wildfire users can expect Froyo rollouts by Q3 2010.
If you're like me though, you'll be incredibly impatient over such things, and wanting to get using the Froyo update like Nexus One users across the globe. Not to worry, the Android community has come to your rescue!

Operating System and Radio
A member over at xda-developers, named udK, has managed to port Android 2.2 over to the Desire for all to enjoy. The ROM is based on FRF-85B, not the more recently released FRF-91, although as there are very few differences between these two builds (my update package was less than 2MB from FRF-50), so upgrading in that aspect shouldn't be a problem. In addition to the updated operating system, it also requires an updated radio image for Froyo to work properly.
720p Video Recording
Don't worry, there are more exciting upgrades in the build too! One such upgrade is the ability to record 720p video from the Desire's camera, which can't currently be done with HTC's ROM. A similar addition has been made in the Cyanogen ROM's for the Nexus One, so it's great to see this feature make it's way over to the Desire.
It's interesting that HTC haven't added this functionality to their ROM on the Desire yet, as the hardware is clearly capable of capturing 720p content without any extra physical changes being made.
The community are clearly one up on HTC for this one, although I wouldn't put it past HTC to add it in to the Froyo ROM themselves. After all, it will give them another marketing angle against the iPhone 4's video recording too.
Native Apps2SD
Apps2SD is probably one of the most wanted features on a LOT of Google Android devices right now. After all, the Market is growing at a staggering rate, fast catching up with the App Store and storming ahead of competition such as the webOS store.
Until now, users have been limited to the internal storage of their devices for applications, which, on some devices, is simply not enough. With native Apps2SD compatibility, users can utilise their cheap micro SD memory cards in the Desire, and install an abundance of applications to it, not having to worry about storage limitations of the phone – many people I know are now having to remove apps before installing new ones – not something that is good when you're trying to increase the usage of Android apps.
Wi-Fi Hotspot
The carriers are going to love this one… With the ROM installed, you will be able to turn your Desire in to a mobile wifi hotspot.
Admittedly, this could be accomplished already if your phone is rooted (which it has to be to install the custom ROM), but to have it built in to the OS is a great time saver, and a really neat feature to have for many users.
More Details and Installation
Of course, the ROM comes packed with more features than I can mention in a single post, but if you want all the juicy details on this beauty, you can head over to xda-developers for in depth explanation and installation instructions too. Have fun!
Source: xda-developers