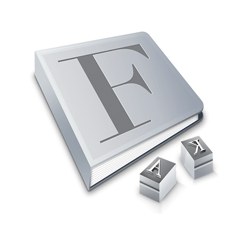 Fonts are often overlooked on our computers. We accept what we have, we keep what we don't like, and more often than not we use a horrific Comic Sans like font for most of our documents. This is not the way things should be.
With so many fonts available on the internet and a really easy font manager in Mac OS X, it couldn't be easier to get your documents looking great. If you have a spare 15 or so minutes, then consider taking a bit of time out from your day and getting things in order. Here's how you do it!
You'll find the Font Book application in your applications folder, and the layout of the main window is really simple. It is split in to three panes. The first pane is a collection of all your font groups, such as 'Fixed Width', 'Fun' and 'Traditional'. The next pane contains a list of all the fonts in the collection that you have selected. If you'd like, you can view all fonts or narrow the list down to a smaller collection depending on what you want to do.
The third pane on the far right hand side of the window is the preview section. Here, any font that you have selected will be previewed so that you can see the style of the letters in upper case, lower case and numerals. You can also adjust the size of the font in the preview window so that you know what it will look like at all sizes you may use it at.
Now that you know your way around the application, let's take a look at installing some fonts and adding to the default collection! You can download a lot of fonts off the internet for free, and there are a number of sites that catalogue some of the best. Have a good look around, but be careful when downloading from suspicious looking sites.
When you download a font, it will probably be one of three formats: TTF, TTC or OTF. Each one of these formats is compatible with FontBook, so don't worry about not being able to use some of the fonts that you download. To install these fonts into the FontBook, simply click on the little '+' button at the bottom of the list of fonts in the window, and a Finder dialogue will pop up. You will need to select the font from the folder you're installing – if you've just downloaded it, it will be in your Downloads folder – and click on the OK button.
Once you have done this, the font will be in your collection and you can view it within the Font Book application. Any font that is in your Font Book will be immediately usable in all Apple applications and most third party applications too. This includes programs such as Mail and iWork applications for word processing.
If you're not happy with a font you've installed, you can easily delete it. Simply right click on it in the list, and select the 'Remove' option in the pop up menu.
If you've got any font resources, please let us know in the comments below and I will add them to this post to keep it updated in the future. If you have any questions, feel free to leave a comment or email me at johnthompson [at] zath.co.uk. Thanks!
Hoping to study Computer Science at University in the near future, you'll seldom see John without a computer in touching distance! His interests include building computers, reading all sorts of literature and of course writing for Zath to keep you updated on all the latest in the world of tech! You can follow John on Twitter as @british_geek.