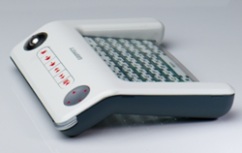 The last hundred years has seen quite possibly the most radical changes in how we live out lives in history, and although so many things have changed some (even within the computing world) have remained constant, and one of these is the keyboard.
Having evolved from the relatively unchanged 1870s Christopher Sholes type writer design in the latter half of the 20th century the keyboard has changed very little in operation from the original models (unlike its counterpart the mouse). However according to the manufacturers of Grippity that could all change.

Sounding worryingly like a child's toy the Grippity is not just a new way of thinking about the keyboard, but of computer navigation altogether; "combining the ergonomics of a game controller, the comfort of a remote control and the functionality of a full QWERTY keyboard and mouse in one device" is how they put it!
Admittedly you could argue as to how efficient the QWERTY keyboard could believe (the theory that it was specifically designed to slow typists down still hold some merit) but regardless it does appear to be a significant step forwards from conventional wired, wireless and even gyro mice (or mouses) and keyboards.
So what is so special about it? Well looking at it first off you would be forgiven for thinking that it was an Xbox 360 controller with touchpad that had been cruelly flattened, almost something similar in concept to the Xbox 360 controller messenger kit. What makes this different from a normal keyboard is that instead of pressing buttons from the top, you curl your fingers round and use the touch sensitive screen (helpfully labelled on the front) to type.
Although this may not seem like such a revolution, it does mean that you can type and navigate at the same time (using the trackball and scroll wheels at the top), and although you may not be able to get the kind of typing speed that you can get on a QWERTY I'm sure that with practise you can get it up to a good words-per-minute rate.
Admittedly this is not being marketed at the home desktop user — more at those with media centers which are accessed from a couch — but it still has its advantages over the traditional mouse and keyboard option. The first is the ability to multitask (which I have already mentioned), but there are also notable ergonomic and health benefits from holding a 'controller' rather than using a keyboard which would negate the need for a ProMotion Keyboard to prevent carpal tunnel syndrome if you have problems with normal keyboards.
A host of back, shoulder, elbow, writs and finger complaints can be averted by using this due to the fact that you can hold it however you like, not putting pressure on certain parts of your body all of the time; it also looks pretty cool, and will definitely invoke jealousy from those who see it!
But would it be really worth you getting one? Personally even as a desktop user I would love to have one, and I think that the freedom that it allows would easily make up for the loss in typing speed. But it is when you have a media center that this comes into its own, making everything quicker, easier and generally nicer to do.
Unfortunately we have no idea when we'll be seeing these things (there is also a gaming and mobile phone prototype in the pipeline) but hopefully it will be in the near future; and although I can't see this rewriting history like it claims, I think it will definitely attract many fans.
Via – Grippity