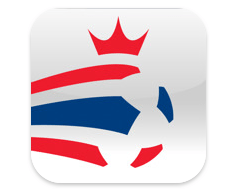 When it comes to football there's no country like England, with our passionate fans, talent-filled leagues, and high attendances across the board. It's only fitting, therefore, that we have a great football league app too! Football League – Official Clubs' iPhone App is an app created for fans of teams in the Football league (Championship, League 1, League 2), so that they can keep track of all the news, keep an eye on live scores up and down the country, and share content of Facebook and Twitter.
How does it work in practice? The first time you open the Football League app up on your iPhone or iPod Touch, you can select your club from a long list of teams in the Football league. From then on, you will be taken to the "My Club" screen, where you can see a preview of the latest club news, previous results and next fixtures. On this page, there are also three sub-pages, which allow you to see the club overview, or take a closer look at the latest news and club player profiles.
It's good to see that all the football news is handled within the app, and not simply linked to an external URL that requires you to open the browser and view before returning to the app – it also means there's less reason for you to load up a separate app such as the Sky Sport News app. However, the thumbnail image on these articles are extremely pixelated and generally poor quality. It would be nice to see this improved in a future update, as it takes away from the positive experience in this aspect.
On the next tab, you can view a full fixture list for your team, from the first day of the season all the way to the last (unfortunately for fans of Preston North End, this means only one win in the league since the season started on August 7th, but hopefully your side will be having better luck…). This includes recently drawn fixtures such as Carling Cup ties as well, so you don't have to worry about the information being inaccurate.
In addition to viewing tailored information to your club, such as the latest news and fixture lists, the application will also let you view current league tables, including that of the Barclays Premier League as well. When you open the app, it says to tilt the screen when viewing the league to see more information, which is curious because there's no extra data whatsoever on show, just a wider view! This is probably something that the developers are looking at for implementation in the future, but they shouldn't label a feature that isn't there!
Although the app itself is free, you can choose to upgrade, and buy a season pass for £4.99 a year. This will allow you to unlock extra features, which include video match highlights, a score predictor, stadium maps for when you're out and about for all those away matches, and an ad-free interface too, which is always nice if you're going to be using the app for a long period of time.
Overall, I think that the Football League app is well designed, and a great idea with there being so many football nuts with either an iPhone or iPod Touch in this great country of ours!
There are a few tweaks that should be made in the future to enhance the experience, but it's a solid start considering the current version is only 1.0.1 at the time of writing. The app has already been downloaded over 100,000 times, so if you want a piece of the action, grab it for free from the App Store.
Hoping to study Computer Science at University in the near future, you'll seldom see John without a computer in touching distance! His interests include building computers, reading all sorts of literature and of course writing for Zath to keep you updated on all the latest in the world of tech! You can follow John on Twitter as @british_geek.