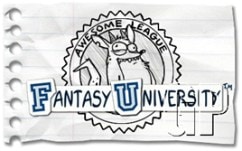 Facebook is fast becoming another place for people to play new games online for free…for the most part. So when I read about Fantasy University, I thought I'd take a look and see what it was all about.
Fantasy University, created by Simutronics, is classed as a social adventure game that adds its own twist on the old skool MMOG genre, with plenty of humour and some great pop culture references that people who grew up through the 80's will find a nice touch.

You'll be doing things like exploration, combat, puzzles with a dash of clever humour thrown into the mix. The game is just point and click so don't expect to be walking through streets etc. The art work is very cartoony and it's effective with the majority of it in black and white and adds to the feel of the game.
When you start up Fantasy University for the first time, you'll be able to create your own character, give him/her a name and make him/her look however you see fit….within reason. When creating how your character will look, there's some nice references in your choice of hair to some old skool films like Labyrinth (Goblin King hair), Edward Scissorhands as well as newer things like Lord of the Rings (shire shag hair), amongst other things. You can just tell from the beginning the developers love their cult films which is one of the reasons that drew me to the game.
There are 5 roles that you can choose for you character which include:
Cheermonger — "use super amazing cheer magic to heal and boost yourselves and their BFF's! Awesome right?!"
Dodgebrawler — "The Jock. Good at hitting things. Good at getting hit. Surprisingly wily at times."
Emomancer — "Dark and brooding, the Emomancer channels dark energy to summon extra-dimensional beings and weaken opponents."
Mathemagician — "Summon intense raw power to dispatch foes quickly, sometimes injuring themselves in the blast."
Slack Ninja — "Study the arts of stealth and surprise to gain the upper hand on, uh, thereby, you know…whatever. That."
The weapons that you can choose I found to be funny as hell, including soap on a rope, tennis ball on a rope as well as an inflatable hammer. Best be careful with those weapons or you could take someone's eye out.
The humour through the game is very cheesy with countless references to films etc, and it has made me look a bit daft sat at my desk at work giggling away to myself, including a cheerleading Ron Wheezey – influenced by Harry Potter by any chance? The style of the humour along with the art work reminded me of Terry Pratchett novels which of course can only be a good thing.
The missions seem simple to start with so you can get used to what things are, the layout of the game, and how to go about your business. When you first start fighting, you'll only have a few skills to defeat your enemies, but you can develop as you progress so you can defeat bigger and uglier monsters along the way.
When you defeat your enemies, you'll gain experience and items, which can be used to create new items or upgrade things. You'll collect Fubar as well, which is the currency, and you'll need 10,000 of these if you're to create a Guild later on in the game.
I thought that this would be the only currency within the game, but there will be another available which is Hero Points. These will be able to be bought using your own money, but there's no set price for them as yet with it still being in the alpha stages. Your Hero Points will be able to get you a pet to help you on your quest, as well as potions etc. It's easy enough to purchase your points, just go to the store, pop in your card details and decide how many Hero Points you want, then splash the cash on whatever you desire.
All the other stuff in the game is great fun and I'm enjoying playing through the world of the Fantasy University.
Fantasy University only in its Alpha stages at the minute so there will be a few more additions, but expect to see Fantasy University up and running in July. From what I've played thus far, I'm quite enjoying my time back at University. So keep your eyes out for it as it really is quite an enjoyable game.