You may have caught our look at the Dropbox online file sync service for Windows, Mac OS X and Linux a few months back, where I mentioned its availability on the iPhone platform. If you're a user of Dropbox and have an iPhone or iPod Touch then you should definitely check out the free Dropbox app on the iTunes App Store.
When you've downloaded Dropbox, you'll need to enter your email address and password to sync it to your account, and everything on your personal storage will be available to download and view. The interface is extremely simple to navigate, with 3 options at the bottom of the screen allowing you to switch between "Favorites", "My Dropbox" and "Settings".

I love the 'Favorites' option, which allows you to download files onto your iPod or iPhone for viewing offline. I found this feature a great addition, as I wasn't always in a good reception area or connected to my Wi-Fi network at home.
When viewing your Dropbox, all folders and files are visible, and you just select the one you wish to view. If you select a folder, the files inside are organised alphabetically for easy access. Another very handy feature is the ability to email a link to your Dropbox to anyone you think might be interested.
For example, if you were browsing through a PDF and wanted to send it to someone, you could tap the email icon in the corner of the screen and it would generate an email with a link to the file in your Dropbox. You can "favourite" a file by selecting the star at the bottom of the screen when viewing any file.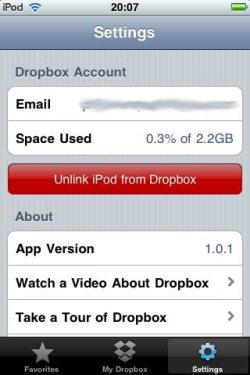 Uploading a file from your iPhone to your Dropbox is extremely simple. When viewing your
Dropbox
, simply select the camera icon in the top corner of the screen, and navigate to the video or photo you want to upload. I definitely recommend anyone with an iPod Touch or iPhone to check out this fantastic
application for Dropbox
users, as it comes in very useful on the road or if you quickly need to access a file.
Hoping to study Computer Science at University in the near future, you'll seldom see John without a computer in touching distance! His interests include building computers, reading all sorts of literature and of course writing for Zath to keep you updated on all the latest in the world of tech! You can follow John on Twitter as @british_geek.