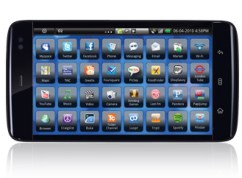 Tablets seem to be all the rage right now; and not just at the noisy neighbours' house party packed to the rafters with over exuberant students, but with a variety of electronics and gadgets manufacturers of all shapes and sizes. From the globally successful Apple iPad, right down to Neofonie and their recently renamed WeTab or Fusion Garage and their JooJoo. Now though, another giant, Dell, has joined the party with the Streak.
The Dell Streak is to be available in the UK exclusively on the O2 network from the 4th June release date, with a US release date being later in the summer, interesting that us UK consumers get first crack at this device, I wonder if they are hoping people over here will not have already bought an iPad as they may be asking if they really need an Apple tablet and would instead consider a smaller and presumably cheaper Dell Streak instead?

The Streak is a 5" Android-based tablet device which intends to take the market by storm by offering the best in on-the-go entertainment, social networking capabilities as well as navigation services. The 5" screen of course is a lot smaller than the iPad and others such as the afore mentioned JooJoo or WeTab, but it provides ample room to read web pages, enjoy all sorts of media including HD video, without being too big for your pocket.
In terms of the spec behind the Streak, it features Qualcomm's Snapdragon chipset with an ARM-based 1Ghz Processor. In addition to that there is 2Gb of internal storage however the Micro SD slot allows that to be expanded up to 32Gb. Plenty to store and power HD media as well as quickly swap between several apps simultaneously.
The Streak itself has is an interesting combination of smartphone and serious tablet device. Let me explain, In addition to its media prowess and the fact it really is larger than the average smartphone with a capacious 5" display, it comes bundled with enough software to make it a great office companion too with e-mail, text, instant messaging and voice call capabilities. Moreover, it even has a 5MP autofocus camera with a dual LED flash. It certainly is an interesting concept and perhaps this versatility can make it what the iPad claims to have already achieved by bridging the gap between smartphone and netbook.
"The Dell Streak hits the sweet spot between traditional smartphones and larger-screen tablets,"
said Ron Garriques, president, Dell Communication Solutions Group.
"Its unique size provides people new ways to enjoy, connect, and navigate their lives."
The compact device features built in Bluetooth, Wi-Fi and 3G connectivity, which obviously allows users to download and enjoy web-content whilst at home or on the move, as well as using Bluetooth connectivity to transfer such media and files with mobile phones, PC's and other devices. As I mentioned earlier, Dell have integrated turn-by-turn navigation into the device with the assistance of Google Maps. The overall form factor of the device also allows it to be mounted in a car without blocking your view or anything.
Dell have confirmed that the Android based device with Dell's own unique interface, will be updated to Android 2.2 'Froyo' at a later date in addition to Flash 10.1 support. And whilst we're on the topic of software, The Dell Streak comes packed with not only a web browser and email client, but a range of social networking apps for Twitter, Facebook and Youtube allowing you to quickly post status updates, comments or videos etc.
So, the Dell Streak is not only a powerful, but also portable device running a stable and popular platform in Android with access to a vast range of extra software through the Android Marketplace. It will become available 4th June in the UK as I already mentioned, being stocked in Carphone Warehouse and backed by leading mobile network O2 when connecting to 3G mobile internet and such.
Is this something that you can see yourself using or would you prefer to get either or both of the larger and smaller options in the form of an iPad and a HTC Desire to use as your Android-based mobile phone?
Via – Geeky Gadgets