Daniusoft Media Converter Ultimate is a program designed to do a host of things with your media files, from ripping and burning DVD's to removing the DRM off iTunes downloads. You'll definitely have a tough time finding more features in another media suite, but how does it hold up against other programs of its nature?
The feature of this media converter that intrigued me the most when I first saw it was the DRM removal tool. This especially piqued my interest as I download a lot of content from the iTunes store, including HDTV shows and podcasts. To me, being able to convert high definition content is a must in any such program, so I was naturally skeptical when adding my files to the conversion list.

I was pleasantly surprised to see an absolute plethora of output options available to me when converting my M4V files, including the ever popular MKV container and device specific formats. There's even an option to output your video to a setting for many Android devices including the Nexus One.
When outputting to HD formats, it would have been a good option to be able to output a higher bitrate audio – you can output to up to 5.1 channels, but the bit rate won't be able to match the audio bitrate of an HD movie. If you're an audiophile, this may put you off, but there are a bucket-load of video output formats that more than make up for this!
This is also a great feature if you've bought songs off the iTunes store and need to convert them in to another format. This isn't as much of an issue now as tracks purchased off iTunes have been DRM free for a while, but if you have some old tracks that contain Apple's FairPlay DRM then you will definitely want to convert your tracks rather than pay the iTunes upgrade fee!
Another feature I mentioned was the ability to not only rip DVD's, but also burn content to a DVD also. The DVD ripping process is a simple one: once the DVD is in your DVD drive, you can select to "Load DVD" and select the drive where it's located. After choosing the audio track and subtitle options, you select OK and the titles are loaded into the conversion list. The DVD will then be ripped to your settings, depending on what you've chosen to use – again there are many to choose from – and you'll end up with a video file on your hard drive.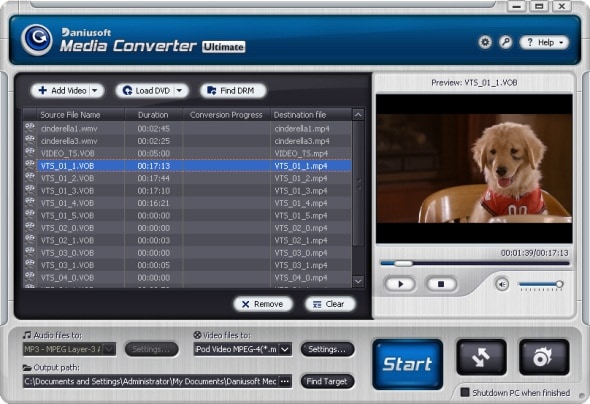 I was impressed at the speed of the conversion when using the program, and the output quality was great. The DVD burning facility is just as easy to use, and ideal for backing up files to disc or creating a DVD movie. It's a nice addition to the suite and is a good feature to have.
As if DRM removal and DVD ripping/burning wasn't enough, Daniusoft Media Converter Ultimate can also convert audio and video into different formats too. If you have some movie files you want to convert and view on your phone on the road this could be a particularly useful feature to you – again the conversion quality is good with a huge set of options to choose from, although this may confuse more inexperienced users.
Overall, Daniusoft Media Converter Ultimate is a great piece of software and if you're looking for an all-in-one software package that fulfills all of your media related needs then this definitely demands a look!