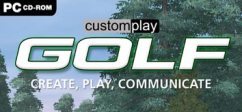 I'm open to any type of game and I do like playing a spot of golf every now and then, so having the chance to play this new one called CustomPlay Golf 2010 was one I didn't want to pass up.
There are loads of options available to you if you fancy something other than an 18 hole round of golf. You can choose:

18 Holes course (of which there are 20)
Par 3 course
Pitch and Putt
Mini Golf
Crazy Golf (2 courses — Pirate and Rooftop)
Nearest to Pin
Longest Drive
There's also the added option of downloading more courses at later stages which is a good idea as it gives more life to the game.
Before you start a round of golf, you can choose whether or not you want to do the full 18 holes, or just the front or the back 9. You can also decide what the weather is going to be like and what time of day it is should you so wish.
Graphics
The graphics are quite nice in this game. The scenery is full of trees and bushes and the grass looks freshly mown on each course. The characters could have been a bit better as I did feel they looked more like an upscaled version of something of a mobile phone.
The water effects are nice and look pretty good when it's raining. I used the maximum graphics available in the game, so if you've got a decent computer you should have no problem running on full specs. If you find yours lagging, just put the graphics down to the minimum and you'll have no problem.
Gameplay
This is probably the best part of the game. There are 4 different swing options to CustomPlay Golf:
Vertical shot — Move your mouse down and then forward to swing.
Horizontal shot — Move from right to left to swing.
2 click shot — Which didn't seem to responsive for me.
3 click shot — Which is what a lot of golfing games tend to use.
My preferred shot was the vertical shot as you seemed to have more control over the swing and the click shots were quite unresponsive for me, so I'll talk about the vertical shot.
To hit the ball, all you need to do is left click on your character and then pull your mouse back, and thrust it forward to smash the ball down the course.
You do have to be careful, however, as you can't just throw your mouse around and expect it to go straight. Accuracy is vital to get a decent field position to be able to reach to green and sink a birdie. Countless times I've had triple bogeys or even gone six over par, but this makes it all the more satisfying when you sink a par or a birdie.
In Summary
Overall, it wasn't quite up to par, if you're a complete golf nut and want to spend those rainy days inside swinging away, then you might find this enjoyable enough to play as CustomPlay Golf 2010 does have its good points. But overall I thought it was a decent golfing game, but not an instant hit. I still personally prefer Tiger Woods to be honest.
3 out of 5
Danny 'Ender' Martin has been part of the Zath team from pretty much the very beginning since he met Zath himself at Leeds Met University whilst studying Business IT. He's an avid gamer and a big film buff. Danny graduated from the University of Bradford with a degree in Computer Animation and SFX and now currently works at one of the biggest UK games developers, which will hopefully see some of his ideas hit the gaming world.