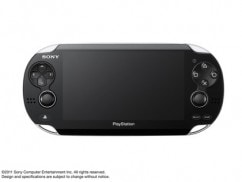 The Sony NGP (PSP2) has been announced, but will it end up being successful? When the original PSP-1000 hit the market in September of 2005, the world let out a simultaneous gasp of excitement as to the future of the portable gaming industry.
Never before had anyone actually provided a viable gaming alternative for those who aren't buying into Nintendo's ever present novelty take on how gaming should be. Never again would mobile gaming just be about 2D horizontal scroller titles, such as Mario or Sonic, is what we thought, at least. And to be fair, the original Sony PSP, and the subsequent refresher models, the PSP-2000 and 3000 were a runaway success, selling 62 million units worldwide as of late 2010.

However, moving on from that, and the launch of the Sony PSP Go introducing digital distribution never really received the same critical acclaim and as a result, never really flew off the shelves as fast.
But, was this down to a simple lack of interest? Or was there something which simply stole its thunder? You see, by the time the PSP Go was released in 2009, the iPhone had already been around for a full 2 years. And we all know the success of the iOS App Store as a gaming platform, with literally millions of titles being downloaded, games such as Doodle Jump and Angry Birds heading the list.
The problem was, many people already had iPhones as a phone and for all the other glorious functions it is capable of, so they probably felt there was no need for spending a further couple of hundred on a device which did only gaming. Multi-functional devices have come to the forefront and pushed everything else into the wilderness.
It's really an undeniable truth, and a sad one at that, as I particularly enjoyed the short time I had with my first generation PSP, and would have liked to have seen the more recent generations enjoy more success, but I guess not enough people, including myself admittedly, had enough interest in the recent additions to the PSP line to actually buy one alongside a perfectly capable gaming device in a smartphone.
So it seems that the mobile gaming industry has come full circle. Very few stops on the way round, but it has indeed returned to a more graphically advanced state of extremely basic games, such as the old 2D scroller or arcade-style snippets of fun, rather than serious 3D adventures or racing games, for example. The availability of cheap (79p) games, which can provide hours of addictive fun, seems too much of an attraction to warrant spending £30 per title on a game which doesn't offer a lot more in terms of actual 'fun', but if you don't happen to like the game, you've wasted a lot more money on buying it.
However, the latest foray into the market from Sony NGP (Next-Generation Portable) which is subsequently known as the Sony Playstation Vita, is going to bring with it a marginally bigger screen, but more importantly than that, much improved graphics and gameplay with dual analog sticks and pretty much all the functionality you'll find on the PS3. But, is it actually possible to replicate the experience of gaming on the big(ish) screen on even a 5″ OLED display? Well I guess only time will tell, but it appears to me that it will be a tough job, even with titles such as
Uncharted
, so impressively popular on the console, coming to the small screen, to literally drag people away from their 3.5″ smartphones and once again splash out on £30 titles.
I may be proved wrong relatively quickly once the new NGP handheld console is actually released, but in my view the only way that Sony could make a real commercial success of the NGP is to offer great synchronisation with the Playstation 3. Considering Sony has already announced and previewed the Sony Ericsson Xperia Play, which is essentially the PlayStation Phone, and offers more functionality but of less quality I imagine in terms of gaming power and graphics, than the NGP, you could argue that Sony has all bases covered, but alternatively it could aid the failure of NGP itself.
When you look at platforms that already exist, such as Xbox Live and it's compatibility with Windows Phone 7, a fledgling service as it is, as well as the iPad/iPhone/iPod ecosystem which holds so much attraction to consumers, a complete lack of game sharing could be the downfall.
With claims that the graphics on the NGP will be close to the Playstation 3 console experience, surely it could be possible to run the same titles on the various platforms, sharing scores and taking your games on the move. It would be a good move, surely, to allow a single purchase for both platforms, encouraging consumers towards the entire ecosystem, rather than a pair of completely unrelated device, which simply come from the same mother, as it were. Or will such a powerful handheld console that provides a gaming experience on par with the PS3 actually threaten sales of Sony's home console?
Of course, it might not actually be possible to bring the two Sony gaming platforms together, but I'm sure it has crossed some minds at Sony and it makes perfect sense, despite the presumed difficult implementation – surely that would be a software update worth developing though?
Or maybe we'll see it happen once the Playstation 4 is eventually released, and the continuous extension of the online PlayStation services and Sony's range of cloud services. I certainly hope that this kind of gaming syncronisation happens sooner rather than later, but what do you reckon?
Will the Sony NGP (Playstation Vita) be success in the handheld gaming market in the forthcoming battle against the Nintendo 3DS and boost Playstation gaming in general? Or is just another flop waiting in the wings?