Boxee is currently my media centre software of choice. Based on XBMC, not only is it compatible with all major platforms (Windows, Mac OS X, Ubuntu and even Apple TV!), but offers a great all round media experience too.
Social Networking Integration
Dubbed as the 'social media centre', Boxee incorporates all of your feeds from social networking sites such as Facebook, Twitter and Digg. You'll need to sign up to Boxee before you can use it, which makes sure that all your account settings follow you wherever you install Boxee.

The social aspect of the media centre is what makes Boxee stand out from other media centres on offer. When you've watched a video, locally or otherwise, you can choose to "Love" it, and share with your followers on Twitter, or post on Facebook. You can also choose to view your feeds from social networking sites too, so you can stay updated even when you're away from your computer.
Interface
Boxee's interface was recently given a face lift with the release of Boxee Beta at the beginning of this year. The home screen is a central location where you can access all of your feeds, featured content from the Boxee team, and of course, your personal media.
The interface is designed to make it extremely easy for users controlling the media centre with a remote to get around their content. I've installed Boxee on the ASRock ION-330 HTPC, and I've been using the supplied media centre remote to navigate the interface. Not only is it intuitive, but I can start watching a show in less than 10 seconds from the home screen.
Boxee organises your movies and TV shows really well, using IMDB to supply metadata and other information such as release and air dates, although as you can see, this requires an internet connection, which I clearly didn't have when navigating through my
Star Trek
folder (note the original air date for these episodes)!
Both movies and TV shows are organised in a grid-like layout. If you select a TV show, you can see all the seasons and episodes available to you. If you don't have a complete series, Boxee will also offer other sources for the content, such as Hulu if you're a US resident.
When you're viewing content, you can bring up a discrete, unobtrusive overlay to access various controls. There are also extra settings, which I'm extremely grateful to have, that allow you to manage aspects of your media such as sound output, audio delay if you have A/V sync issues or the aspect ratio of your content. To see advanced settings in a remote-based interface implemented so well is great to see, as you don't lose any of the control you would have if you're coming from a media player such as VLC.
These advanced options are also well hidden, only being displayed in a slide out pane from the left hand side of the screen when required.
Video Playback and Compatibility
Boxee is compatible with a whole host of formats, including the very popular HD format of MKV. As part of my video playback tests, I played various files of different formats, each of which played back flawlessly, including high bitrate (20mbps) 1080p content. Interestingly, the same files had a few problems playing back on the same machine using VLC media player, so to see them play back well on Boxee was a relief.
Although I rip the majority of my Blu-Ray discs to MKV, it would be nice to see native Blu-Ray support in Boxee in the future, although this may be quite some way off with the various license issues needed to support the platform. Also with the recently announced Boxee Set Top Box and Remote Control not featuring any kind of optical drive, perhaps they are looking beyond content on DVD/Blu-Rays entirely?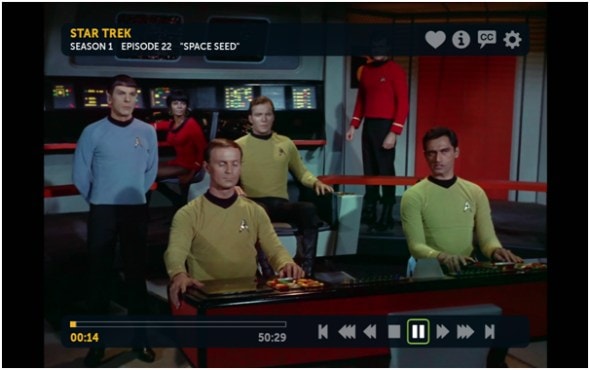 Applications
The final feature that makes Boxee a knock-out media center option is the number of apps that are available on the platform. Services such as BBC iPlayer, Last.FM and even less known projects such as the Engadget Show have an application, which allows you to use your favourite services with a Boxee interface.
Overall, Boxee is definitely one of the home media centre software platforms you should be taking a look at and consider using in your home entertainment setup.
Hoping to study Computer Science at University in the near future, you'll seldom see John without a computer in touching distance! His interests include building computers, reading all sorts of literature and of course writing for Zath to keep you updated on all the latest in the world of tech! You can follow John on Twitter as @british_geek.