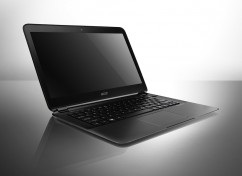 The ultrabook competition is well under way at this year's CES; we've already seen the ThinkPad T430u announced by Lenovo, and now it's Acer's turn to shine in the spotlight. The Taiwanese company has just announced what it's calling "the world's thinnest ultrabook', and at 15mm thick at its maximal point it may be in the running for that title.
The 13.3-inch laptop is constructed from a magnesium-aluminum alloy cover and brushed metal, and weighs just 1.35kg. Needless to say, if you're looking for a computer to take on-the-go with you, this one would fit the bill quite nicely.
The Aspire S5 comes with Acer's Green Instant On technology which takes advantage of the speeds that are offered by the internal SSD to instantly resume your computer from where you left off in just 1.5 seconds. The same technology is also used to ensure that the battery in the S5 can last up to several weeks on standby as opposed to the few days that are offered through conventional laptops and ultrabooks alike.
As well as instant on technology, the S5 also comes with Acer Always Connect, which allows you to connect and instantly view your social networking accounts such as Facebook or Twitter after you've woken up your computer with, wait for it… a smartphone. That's right, if you're too lazy to press a power button on your computer to wake it back up (even a tap on the space bar would do), you can remotely power it back up from sleep.
The best part of the Aspire S5 isn't the software, though, it's most definitely the hardware. The thinner that these computers get – and this one is pretty damn thin at 15mm – the less room there is for ports along the side and the back. Acer's solution to this problem is not only elegant, but incredibly cool. When you press a button on the laptop, a panel is opened mechanically, with the height adjusted accordingly, to reveal an array of I/O ports.
This isn't your standard array of ports either. There's no USB 2.0 hanging around on the Aspire S5. When you press that button, you will have access to a HDMI port for outputting to a larger display, USB 3.0 for fast data transfers and 20Gbps Thunderbolt. That's right, thanks to Intel's Ivy Bridge chipset that's going to make it to market with PCs at the end of Q2 2012, you will have access to Thunderbolt technology on Windows. Now all you need is a super expensive peripheral of some sort to go with it!
According to Acer, the Aspire S5 will begin to ship in Q2 2012, but due to the Ivy Bridge chipset that this machine will be using, that release data will definitely be closer to Q3. Still, USB 3.0 and Thunderbolt ports are well worth a little extra wait; Acer looks like it's done a great job with the S5 on the surface. Hopefully we'll be as positive when we've got our hands on one later in the year!
Source: Acer Press