Yes, it's that time of the year again. The cold nights are here, advent calendars are being opened all across the country and Christmas shopping is on everybody's mind. If you're struggling to buy gifts for the geek in your life, then carry on reading for a few pointers on what they would appreciate this holiday season!
Under £20: iPod Nano Watch Strap
If you know someone with a latest generation iPod Nano, a simple wrist strap will turn said iPod in to the world's coolest watch with hardly any expense at all. At under £20, the NanoWatchStrap may not look like a Rolex, but it certainly does what it says on the tin. Using the clock screensaver on the Nano, you can have a functioning watch sitting on your wrist while it delivers your favourite music through your earphones at the same time!
Under £100: Anti-Gravity Platform
Climbing up the price ladder, the next item on our list is the anti-gravity platform. This is a seriously cool little gadget that will appeal to any geek that you may know. Simply place any object weighing under 85g on the platform, the magnets will do the rest, making it float in mid-air. Seriously, this thing looks like it's straight out of a sci-fi movie! It'll put you back £90.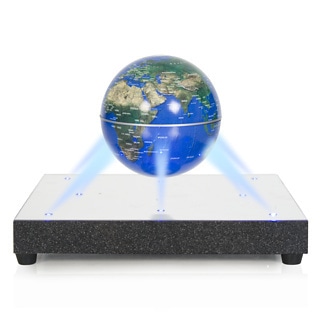 Under £150: Nintendo 3DS
It may not have the best battery life in the world, but the Nintendo 3DS is the first handheld console to pack a third dimensional punch, and comes in at under £150. With a plethora of games ranging from Mario to Pokémon, there's a game on the 3DS that everyone will enjoy playing, so it's no surprise that it's at the top of a lot of Christmas lists this year.
If the geek in your life already owns a Nintendo DS, then I couldn't recommend an upgrade to the 3DS, as I don't feel that the 3D has enough potential to warrant an upgrade itself, and it has an adverse effect on battery life as well. If that special someone doesn't already have a previous generation DS though, they would no doubt welcome the 3DS with open arms. This one's definitely worth splashing a few quid on!
Under (or around) £500: Samsung Galaxy Nexus
Apologies for the price jump, but we just reached smartphone territory, and I just can't bring myself to recommend a smartphone that isn't top of the line. We haven't managed to write a full review of the latest "pure" Google phone, Samsung's Galaxy Nexus, but after a little play around with it I can definitely recommend it to anyone looking to buy their geeky friend a smartphone this Christmas. It's running the latest version of Android, it has blazingly fast hardware and a 720p display. What's not to love?!
Under (or around) £600: Apple iPhone 4S
Sorry Apple haters. I know, I know, we were so close to an Apple free Christmas recommendation guide, but I just couldn't resist! If money's no object and your significant geeky other is an Apple fan then the iPhone 4S is a no brainer. It has an 8MP camera, the same retina display as the iPhone 4 and a dual core processor to make sure that everything goes down smoothly. Not sold yet? Check out our full review for more information!
Hoping to study Computer Science at University in the near future, you'll seldom see John without a computer in touching distance! His interests include building computers, reading all sorts of literature and of course writing for Zath to keep you updated on all the latest in the world of tech! You can follow John on Twitter as @british_geek.