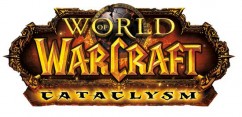 When the World of Warcraft patch 4.0.3a came out, players got a sweet taste of what's to come in the WoW: Cataclysm expansion. Here's a small taste of what's going on.
To start off, the landscape has been completely redone and the graphics have received a major overhaul. Although patch 4.0.1 started this trend with more realistic water and fire, patch 4.0.3a added the cherry on top. The first glimpse of this comes in the form of the revamped login screen where an angry Deathwing (I'm not sure if he's ever happy) roars and glares at players from atop Stormwind.

Stormwind now matches the utter destruction that the opening cinematic shows, but the city itself is still there. Orgrimmar now reflects its new Warchief, Garrosh Hellscream. Venturing outside these cities will reveal that the new landscape is absolutely gorgeous, areas in the distance don't look flat, and the first few boars I happened to kill had actual fur in lieu of the orange shell with a few lines that they previously sported.
Characters also move more fluidly now and although it probably isn't what everyone is focusing on it is a nice change. My favourite touch is that characters now have eyes in their status picture (the previous filled in colour always creeped me out).
To go with the spiffy new graphics and ominous map changes, the new starting areas are out for the playable races. I took some time to play through the troll starting area after downloading the patch and noticing that all of my Horde characters had been sent to the new Orgrimmar (Alliance players have been relocated to the Stormwind cemetery).
The first few quests are a bit hold-your-handish. You meet your trainer, learn to kill mobs, and clear out a few pests. The quests are a bit redundant, but they do include your character more than previous ones do. Meeting your trainer leads you to be tested while the trainer watches; killing the mobs ensures that they aren't eating your food; as a result of your clear skill at fighting you are sent to show how well you fight something that intends to kill you.
This short chain led me to Zul'jin where I was rewarded for my hard work with a tasty bit of lore explaining why the trolls are where they are. Tensions are high and a lot is at stake in the new Azeroth, and you're right in the middle of it all.
In addition to the new starting areas, players can also choose from the new race and class combinations (from available races, Goblins and Worgen are part of the actual WoW: Cataclysm expansion). There is a decent amount of lore available in-game explaining why players can suddenly choose new classes for old races. Blizzard seems to be trying to make lore just available enough for players that aren't aware of its existence to realize that there is more to WoW than just ganking.
Players still need to purchase the Cataclysm expansion for Goblins, Worgen, the new level cap, and a decent amount of new content, but if you'd prefer to wait until the retail prices come down a little, well there is enough out there in the World of Warcraft 4.0.3a content patch to keep everyone amused.
Jessica Hart is a gamer with a degree in English. In her free time she likes to play video games and mess with shiny things that she finds in electronics stores. When she sees something interesting, she writes about it and sends in to Zath!