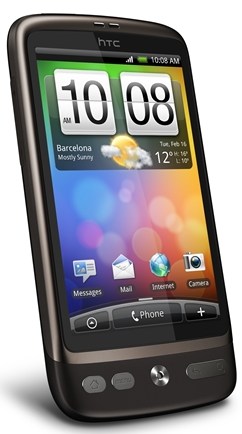 Ah, the HTC Desire… At first glance, many say that the Desire is HTC's way of pairing their Sense UI with the Nexus One, and in many ways, they'd be right, but despite its strong resemblance to Google's 'superphone', it also carries many differences. Many people have been holding out for the Desire here in the UK, as the Vodafone Nexus One is only now just starting to appear, so it's bound to be a winner with consumers.
Hardware Features
Ok, so we all know about the Google Nexus One, and you'll find many traits of it in the Desire. HTC has kept the 480×800 AMOLED screen, offering the best display I've come across on a mobile device despite its limited usability in direct sunlight. It was only when I compared identical pictures on the HTC Desire and the Apple iPhone 3GS, that you could tell just how bright and colourful the AMOLED screen could present them in comparison to the dull, washed out colours on the iPhone screen. Also, in addition to this, since the Desire's screen has a higher resolution than the iPhone, everything looks much sharper and text is so much better to read, in fact, if you then go back to the iPhone display, it looks positively blurry and not that pleasant to use at all.
[Read more…]
Hoping to study Computer Science at University in the near future, you'll seldom see John without a computer in touching distance! His interests include building computers, reading all sorts of literature and of course writing for Zath to keep you updated on all the latest in the world of tech! You can follow John on Twitter as @british_geek.